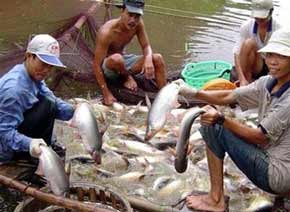 Catfish breeding in the Mekong Delta
The price of basa and tra catfish in the Mekong Delta has continued to fall considerably in these days and farmers are much worried.
In Can Tho City, the provinces of An Giang, Dong Thap and elsewhere in the delta, traders are buying catfish from farmers for VND13,500-13,800 per kilo, about VND1,500-2,000 lower than production cost.
Even worse, many farmers cannot sell their mature fish because traders say no. Farmer Vo Van De, who has bred catfish for years in Can Tho, said, "Catfish farmers here have never faced big and big losses as in this year. A series of families have become big debtors."
"Many more families will stop breeding catfish between now and the end of the year because they cannot continue," he added.