The price of local breeds of catfish dropped by VND500 per kilogram in the Mekong Delta yesterday following a sudden increase which sent the price over VND15,000 per kilogram in the past ten days.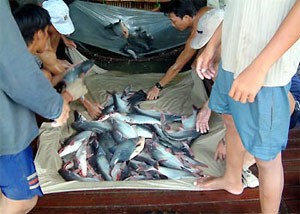 Catfish prices drop in the Mekong Delta
White flesh catfish is currently being traded at VND14,500 to 14,800 per kilogram, while the breed of yellow flesh catfish is being traded at VND13,000 per kilogram.
 
At the present prices, farmers stand to gain a profit anywhere between VND3,000 to 4,500 per kilogram.
 
However, according to industry analysts, the catfish export is slowing down because the supply needed for the holiday season has already been purchased.
 
Now that many of the contracted orders have been filled, many exporters in the Dong Thap and An Giang provinces have reduced their purchases by 40% to 50% to mirror the lessening demand.