Catfish processors in the Mekong Delta are much worried about a severe shortage of materials for production because farmers are holding on in their stock to wait for better prices after suffering huge losses not long ago when a glut of catfish drove prices much below production cost.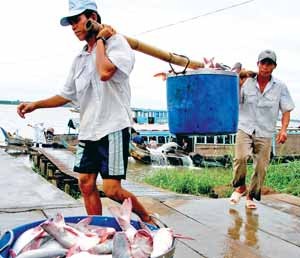 Catfish processors rush to buy in due to low supply in the Mekong Delta (Photo: SGGP)
Due to this shortage, which is forecast to get worse in the coming time, catfish price has increased to VND16,500 – 17,000 per kg, and processors are competing strongly in purchasing the material.
"Price has continuously risen in recent days. Many companies buy tra fish right at the farmers' ponds and pay in advance, just after singing contracts," said Nguyen Ngoc Hai, chief of Thoi An Seafood Cooperative in O Mon District, Can Tho City.
On September 5, many companies in Can Tho, An Giang and Dong Thap provinces offered to buy grade-1 catfish for VND 16,000 - VND17,000 per kg, but they could not find enough because many breeders want to wait for better prices in the days to come.
Increased prices of catfish have a little helped catfish farmers, who have suffered much from recent heavy losses, said Duong Nghia Quoc, Deputy Director of the Dong Thap Department of Agriculture and Rural Development, also chairman of the provincial Aquaculture Association.
It is not likely that breeders will keep their fish at ponds for higher prices because if they do so, fish will no longer meet the grade-1 standards and they will suffer losses, said Mr. Quoc.
The current shortage of fish resulted from the fact that many Mekong farmers have stopped breeding after suffering losses over the past few months.
Can Tho City now has less than 20,000 tons of tra fish in ponds, only enough for processing in September. Meanwhile, 50 percent of catfish breeders have offloaded their ponds and the total area of ponds has shrunk by 500-600 hectares, said Mr. Bui Huu Tri, chairman of the Can Tho Aquaculture Association.
Mr. Phan Van Danh, Chairman of the An Giang Aquaculture Association, said, "Because of a sharp reduction in supply, catfish price will likely continue rising until the end of this month. There will be scarcity of fish for processing in early next year."