Prime Minister Nguyen Tan Dung has instructed ministries to draft a plan for the farming and consumption of catfish to make it a key export item and help improve farmers' lives.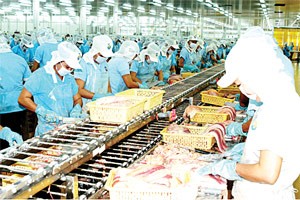 Workers process catfish for export at Nam Viet JS Company in An Giang (Photo: SGGP)
Meeting with Mekong Delta authorities in An Giang Province on March 18 to discuss measures to develop the catfish industry, he said tra and basa catfish are important to the economy, contributing 2 percent of the GDP and 32 percent of seafood exports.
Catfish is a specialty of the delta and is consumed all over the world but its farming, processing, and consumption remains low because of a lack of careful planning and overall guidance.
Mr. Dung said the plan should aim to develop catfish farming and processing into a large-scale industry which would ensure quality and hygiene, and protect the environment.
He ordered the Ministry of Agriculture and Rural Development to set up a steering board to tackle problems facing the catfish industry.
Catfish farming and production have risen sharply in the last few years but the growth has been volatile.
The Mekong provinces produced one million ton of catfish on 6,100 hectares of farms last year. But they could not sell it all as the global crisis sent export demand tumbling.
Besides, with feed prices surging, increasing costs by 40 percent, most farmers incurred bad losses. As a result, 30 percent of the farming area has been left fallow this year.
Ministry officials and local representatives agreed that the reason for the erratic growth is the lack of planned farming and failure of producers and consumers to establish links, adding this has also set off unhealthy competition.
They suggested that farmers and other breeders should be instructed to strictly conform to hygiene, breeding, feed, and wastewater-treatment standards while Government agencies should improve their market forecasting capacity and help the industry promote its products and source investments.
There are currently some 100 catfish processing plants in the country.