Viet Nam today raises its benchmark interest rate 12 percent from 8.75 percent, lifting the maximum return that commercial banks can offer depositors to 18 percent a year.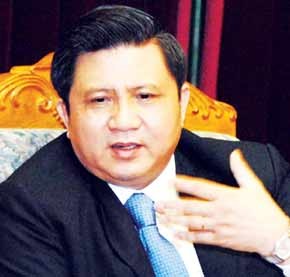 State Bank of Viet Nam Governor Nguyen Van Giau (Photo: SGGP)
Mr. Nguyen Van Giau, Governor of the State Bank of Viet Nam told a conference Saturday that the new rate mechanism would replace the negotiated rate mechanism applied since June 2002.
Under central bank regulations, commercial banks cannot offer savers rates exceeding 150 percent of the base rate.
The State Bank of Vietnam also said starting today, its discount rate is nearly double to 11 percent from 6 percent, while the refinance rate is raised to 13 percent from 6 percent.
Commercial banks said they would increase their rates.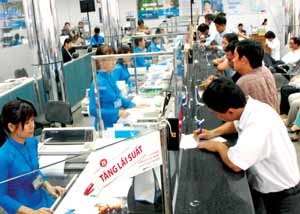 A notice at the Asia Commercial Bank in HCMC writes, "Interest rates rise." (Photo: SGGP)
The Bank for Investment and Development of Viet Nam (BIDV) announced Saturday, the day the central bank announced the new rates, that it would apply new interest rates from today, with the highest lending rate being 18 percent per year.
BIDV chairman Tran Bac Ha said the central bank's decision would rescue banks from "a deadlocked situation."
Borrowers have also raised their concerns over the central bank's decision.
Mr. Nguyen Chi Trung, chairman and CEO of the HCMC-based Gia Dinh Group, says businesses will face higher rates when borrowing money from banks. A problem faced by them is whether profit can be enough to pay for bankers. He adds that manufacturers may increase their selling prices, and this goes the other direction with the combat against inflation and price increases that the Government is conducting.
Mr. Nguyen An, CEO of the Saigon Garment Company, says given with higher borrowing interest rates, manufacturers have to increase their selling prices to ensure profit, and some business may raise their prices up to 40-50 percent. He adds his company will have to minimize borrowings from bankers and delay investment projects to save capital for production.
Ms. Nguyen Thi Hong, a city dweller in District 10, says with banks' annual rates ranging from 10 percent to 12 percent, residents' dream to borrow money from banks to buy a house could be possible, but with current high rates, some may be 18 percent per year, the dream has gone away. She says the market, which has already become hot due to price increases, gets hotter now because of higher interest rates.