The State Bank of Vietnam now discourages commercial banks to provide gold-trading services despite complaints from existing trading-floor operators.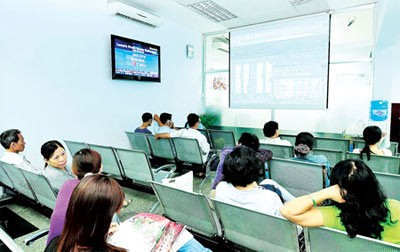 A gold trading floor run by Asia Commercial Bank in HCMC (Photo: SGGP)
A draft circular issued by the bank recently says only commercial banks can offer the service while the margin will be maintained at 15 percent to prevent investors from running up heavy losses.

A central bank official said the SBV does not encourage people to trade gold due to the risks involved in it. It is "like a casino" and investors would have to bear all the consequences, the official said to explain the rationale behind the new regulation.

The Ministry of Finance, the central bank, the Government Office, and the Ministry of Industry and Trade have jointly prepared the circular and it is expected to take effect in the fourth quarter if approved.

As a result, many gold trading floors would have to close down, with only five or six of the current 20 --that have 20,000 active accounts -- remaining in operation.

Some trading firms that rare owned by non-banking entities are considering ways to merge with banks.

A general director of a newly-established gold floor said the regulation would make life very difficult for firms like his, and the only option available is seeking permission to merge with banks.

"Otherwise, we have to [move] to other industries despite spending so much on the gold exchange," he said.

Most gold traders suggested that the gold exchange system should be managed by an independent organization and banks should only be entrusted with payments.

In a document signed by a deputy governor on August 6, the SBV said the operations of the gold trading floors had revealed some of the problems plaguing the economy – for instance, the floors attract large sums of money that do not flow into production or business.

The chairman of the Vietnam Gold Business Association, Nguyen Thanh Long, explained that gold trading floors cannot be run without the participation and cooperation of gold businesses.

The cooperation would also help the gold market develop healthily and secure the interests of investors, banks, and enterprises, he said.