The Vietnam Association of Seafood Exporters and Producers (VASEP) said in the first quarter of the year export turnover reached around US$1.2 billion, a year-on-year decrease of 8 percent.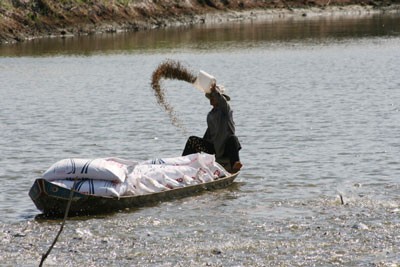 Pangasius farmers breed fish in ponds (Photo: A. Quan)
Two key export commodities, pangasius and frozen warm water shrimps, slumped by 8 percent. The challenge for the country now is shortage of raw material and more barriers in export procedures from countries. This also places a hurdle for the country's export target of $6.5 billion.
For years, the Mekong delta province of Ca Mau has large areas for breeding shrimp and earns high revenue from exports. This situation is being threatened by rapid decrease in breeding area.
The provincial Department of Agriculture and Rural Development said the first quarter saw a decrease of 30 percent against last year. Nearly 18 shrimp processing factories stopped operations due to shortage of capital and material. In addition, scorching weather resulted in high salinity causing huge losses for shrimp farmers.
The departments of agriculture and rural development in Mekong delta provinces worry that hot weather could delay breeding in 2013 and many fish crops may die.
Tran Hoang Dung, deputy head of the Department of Agriculture and Rural Development in Tran De District of Soc Trang Province said farmers have cultivated 600 hectares of farm land for breeding shrimps, however diseases have killed more than 10 percent of the crop.
Staffs from the departments have warned farmers to wait for right time to cultivate shrimps in a bid to reduce losses. Accordingly, there is a severe shortage of shrimps, resulting in closed doors for many processing factories.
Meanwhile, pangasius price is down to $2.6 per kilogram and the presence of Vietnamese pangasius in the US market has helped the profit margin of US catfish to plummet, which prompted the US Department of Commerce increase tax on Vietnamese pangasius.
Despite hard times, enterprises are struggling to survive and applying new techniques and opening export markets, similar to what the Go Dang Company did. Nguyen Van Dao, the company director, said thanks to right direction that the company took; it has seen an increase of 10 percent in export turnover in three first months forecasting it will wrap up 2013 with a $45 million export turnover.
Meanwhile, Nam My Company's policy is to widen its market base, which proved right as company's revenues hiked by 10 percent.
According to experts, difficulties prevail in small firms with no long-term strategies. The existing problem is that price is still low which cannot reap profits for farmers.
Duong Ngoc Minh, VASEP's deputy head, proposed a punishment on deceiving firms that destroy the image of the country's pangasius industry. Minh said the goal should be not on export targets but on improving the quality.