Many challenges lie ahead for the sugar sector, what with slower consumption, excess supply as compared to demand, and unchecked smuggling of sugar across borders.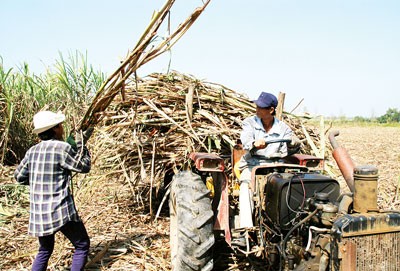 Farmers harvest sugarcane (Photo: SGGP)
Sugar manufacturers have so far processed 19 million tons of sugarcane to yield 1.53 million tons of sugar, an increase of 2.2 tons over the previous crop, according to the Ministry of Agriculture and Rural Development.
In 2011 and 2012, about 298,200 hectares of sugarcane was cultivated nationwide, 15,000 hectares more than the previous crop, with yield of 63.9 tons per hectare.
By July 2013, sugar inventory increased to nearly 426,000 tons, about 187,000 tons more than in the same period last year.
In August, September and October of 2012, sugarcane processed across the country was 190,000 million tons, whereas domestic sugar consumption is only 230,000 tons and imported sugar is 40,000 tons.
Sugar supply is now far in excess of demand by about 200,000 tons, before the next sugarcane crop. This puts huge pressure on sugar plants, said Doan Xuan Hoa, deputy director of the Department of Processing and Trade for Agro-Forestry-Fisheries Products and Salt Production.
As per an International Sugar Organization report, world sugar output was more than 187 million tons by May end, 7.5 million tons higher than in the last crop.
Sugar supply is thus far in excess of demand by about 10 million tons whereas it is forecast that sugar output in the 2013-2014 crop will be in excess of 1.5 million tons.
Despite low price of sugar in the market, plants cannot reduce price of sugarcane, resulting in some plants temporarily shutting down.
In addition, farmers have been forced to reap sugarcane early to avoid expected flooding in the Mekong Delta Province of Hau Giang.
The Vietnam Sugar Association has proposed to the Government to have flexible policies to boost sugar exports to China and for authorized bodies to strictly tackle sugar smuggling, so as to help boost the sugar sector.