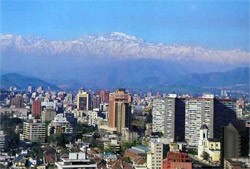 Panorama of Santiago, capital of Chile.(Photo: www.gochile.cl)
Chile plans to establish Free Trade Agreements (FTA) with Viet Nam, said its Direction of International Economic Relations (Direcon) as Chile considers Viet Nam an emerging market with high potential.
Viet Nam's export to Chile was up to US$69 million in 2005 and Chile has already established FTA with Singapore, Brunei, Malaysia and Thailand.
Viet Nam and Chile established diplomatic relations in 1971 and since Chile's democracy was restored in 1990, the two countries have signed a number of cooperation agreements and have had an increasing number of diplomatic delegation visits
Two-way trade between the distant lands reached over 60 million USD in 2004, up from US$18.69 million in 2000, with Chile's exports to Viet Nam accounting for 43.5 percent.