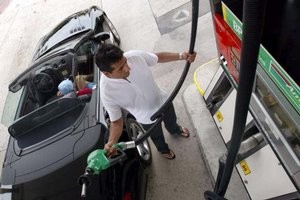 Pump prices of petrol and diesel increased in Shanghai, Beijing and other cities
China
on Wednesday raised prices of oil-based fuel products by about 10 per cent, reflecting the surge in global oil prices.

Pump prices of petrol and diesel were immediately increased by a similar percentage in Shanghai, Beijing and other large cities as wholesale prices of petrol, diesel and kerosene for aviation all rose by 500 Yuan (US$62.4) per ton.

The rise was introduced because Chinese prices were "far below that on the international market, which is not helpful to oil refineries in China and to ensure adequate supplies", state media quoted an official from the State Development and Reform Commission as saying.

The maintenance of global oil prices at more than US$70 a barrel had forced the rise in China.

The increase takes the standard pump price of the most popular low-octane petrol up to 4.52 Yuan (56 US cents) per liter from 4.13 Yuan per liter in Shanghai, a rise of 9.4 per cent.

The commission urged local governments to implement a subsidy scheme designed to help vulnerable industries and public services.

Industry officials said the earlier price rise was also a reaction to the growing impact of global oil prices on China, which imports more than 40 per cent of its oil.

The government plans to increase its refining capacity by over 45 million tons to reach 170 million tons by the year 2010, vice-president of Petrol China, said.
(Sources: Xinhua, BKP)