Authorities on June 15 destroyed 26 tons of low quality potatoes brought in from China and being sold as Da Lat grown potatoes.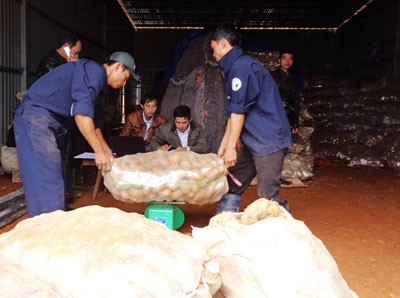 Market staff check potatoes imported from China (Photo: SGGP)
The huge volume of potatoes was discovered in a warehouse belonging to Nguyen Thi Nguyet in Da Lat City.
Nguyet said he had bought 52 tons of Chinese potatoes in all, 26 tons from Anh Quan Company in Hanoi and 26 tons from Van Linh Company in the Lao Cai Province. All the batches had quarantine certificates issued by Tan Thanh Plant Quarantine Station.
However, two samples of potatoes were found exceeding permissible limits of Chlopyrifos pesticide.
As per receipts presented by the trader, Chinese potatoes fetch VND3,344 per kilogram while Da Lat potatoes are sold at VND15,000-20,000 a kilogram. As consumers prefer Da Lat potatoes, Chinese potatoes are sold as Da Lat grown potatoes at an exorbitant profit margin.
This practice has been going on for years but authorities found it confusing to handle as crooked sellers wrap Chinese potatoes with red soil to show as Da Lat potatoes.
At the end of 2012, a company in Ho Chi Minh City was caught red-handed applying this method to deceive consumers and deceptively earn more profits.