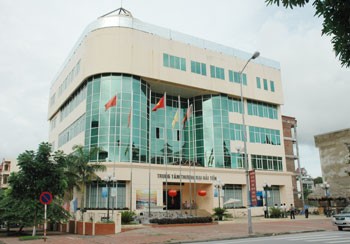 Hai Yen Trade Center in Mong Cai, Quang Ninh province
An international retail complex selling chinese goods opened on June 25 in the country's northern  province of Quang Ninh.
Fuelled by massive increases in cross border trade with China, over 100 Chinese businesses have decided to set up shop to sell their products.
The 7,000 square metre Hai Yen retail complex was built at a cost of US$6 million by the Ha Noi-based Quang Thai Joint Stock Company.
The six-storey centre displays a wide range of products, including electronics, garments and textiles, automobile spare parts and computer equipment. 
In order to protect consumers, the center managerment board will closely check the quality, source of products before allowing them to be sold The complex helps tourists visiting Quang Ninh buy chinese goods at the reasonable price. Recently tourists visiting the north often come to northern province of Lang Son in oder to buy chinese goods at the cheap price. However, goods selling there are not warranted.