Citibank Vietnam opened its first retail outlet located in Ho Chi Minh City on Oct. 13 in the latest sign of how foreign companies are targeting consumers in the fast-growing Asian economy.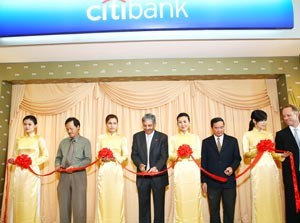 Citibank Vietnam's first retail outlet is inaugurated on Oct. 13 in Ho Chi Minh City (Photo: Thanh Ha)
The US bank's outlet provides deposit services to individual customers and remittance services to overseas Vietnamese.
Other services include savings and personal investment products such as multi-currency deposits, flexible interest bearing accounts, and various options for transactions.
Available at the branch are also counter teller services and two 24-hour ATMs, which bring to five the number of Citibank ATMs in the city. By the end of the year, a further eight ATMs will be deployed.
At the opening ceremony, Shirish Apte, CEO of Citibank Asia Pacific said, "We are delighted to make our retail banking services available to consumers in Vietnam through the opening of this world-class outlet in Ho Chi Minh City."
"We aim to set a new standard in premium banking in Vietnam with our industry-leading innovations and relentless focus on delivering superior customer service and value propositions. We believe in Vietnam's future and are committed to continue to invest here and actively participate in Vietnam's economic growth."
Brett Krause, Citibank country officer for Vietnam, said: "With our first retail outlet, we are also introducing Citi's wealth management offering – Citigold – to Vietnamese consumers."
"At this outlet, we have 16 Citigold relationship managers and seven highly-trained and experienced banking service staff," added Krause.
Citigold requires a minimum balance of US$50,000.
The US bank has provided corporate and investment banking services in Vietnam since 1993. It currently employs over 200 employees in Hanoi and Ho Chi Minh City.

Citibank was the first US financial institution to receive a branch license in 1993 and the first US bank to open a branch in Hanoi in 1994.
HSBC, ANZ and Standard Chartered Bank have already full services in the country. HSBC currently operates three full branches and various transaction offices.
Standard Chartered is a strategic partner of the Ho Chi Minh City-based Asia Commercial Bank, a major bank in the country.