On the occasion of National Day, September 2, many activities were organized nationwide, supermarkets offered large reductions and citizens took advantage and enjoyed the celebrations and special offers.
Many supermarkets, entertainment areas and domestic travel tours nationwide attracted numerous people.
In Ho Chi Minh City, supermarkets began a month-long discount promotion, with discounts of 30 to 50 percent in many supermarkets and shopping centers, such as Co.op Mart, Big C, MaxiMark, Tax Department Store, Vinatex, Thien Hoa and Zen Plaza.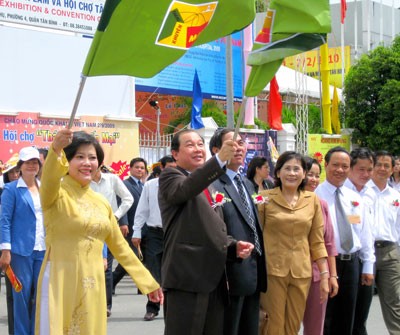 Ho Chi Minh City authorities launch "promotion month" to stimulate consumption on the occasion of the National Day.(Photo: SGGP)
Big C and Co.opMark supermarkets had to arrange more check-out counters to avoid overloaded, as there was a large number of customers on September 2. Despite this, many customers still had to wait 15 to 20 minutes to pay.
A promotion, "Proud of Vietnamese Goods," was organized by the Co.opMark chain, with a 50 percent discount on more than 300,000 Vietnamese products, especially for food, cosmetics and clothing.
The greatest number of customers went to supermarkets in the city center, such as Co.opMart in Nguyen Kiem, Phu Nhuan District; Nguyen Dinh Chieu, District 5; Cong Quynh, District 1; and Ly Thuong Kiet, District 10.
They saw turnover increase by 50 to 70 percent compared with previous days.
Big C turnover also increased by 50 to 70 percent the same day.
At the CitiMart chain, turnover yesterday increased by 40 percent compared with normal days, the best selling groups were fresh food and cosmetics.
Young people shopping on National Day. (Photo: SGGP)
Cho Lon Electronics Supermarket also offered a discount of 15 to 50 percent on more than 6,000 products, with footfall increasing by 150 percent and turnover increased by 25- 30 percent compared with usual days.
Purchases in most shop and markets also increased by 20 to 30 percent, however, the price of goods in markets increased by ten to 20 percent on the occasion of National Day.
In Hanoi, numerous people flocked to various city attractions, such as Uncle's Ho tomb area, the Temple of Literature, Vietnam Military History Museum and some parks.
Many activities were organized in Ho Tay Water Park and many people had to wait for hours to buy tickets. The situation was also seen at Thu Le Park.
The National Cinema ran out of tickets on National Day.
National Day this year coincided with Vu Lan Festival Day – Ullambana, the festival is considered Vietnamese Mother's Day.
A great number of people visited pagodas for the occasion of Vu Lan Day, they burned incense and prayed for a brighter future.
Many activities were also held at the Museum of the Cultures of Vietnam's ethnic groups, Hanoi, to mark National Day, such as art performances, Vietnamese cuisine and special exhibitions.
In Hue City, thousands of domestic and foreign travelers flocked to Huong River area in front of Nghinh Luong Dinh to encourage a traditional boat race to welcome the 64th of National Day.
The race attracted more than 300 competitors.
Thua Thien Hue Provincial Department of Culture, Sport and Tourism also held a Hue cuisine expo and Hue Royal Music performed.
Many activities were held in Phan Thiet, Da Lat, Can Tho and Mekong Delta Provinces and attracted lots of people. The number of foreign travelers increased dramatically on the occasion.
Traffic jams occurred in some places around entertainment areas and supermarkets in Ho Chi Minh City.
Some bus routes were continually overcrowded, such as Suoi Tien route, Thu Dau Mot – Suoi Tien and Bien Hoa – Ho Chi Minh City.