Enterprises in Ho Chi Minh City have begun preparing commodities for the coming Tet Lunar New Year holidays.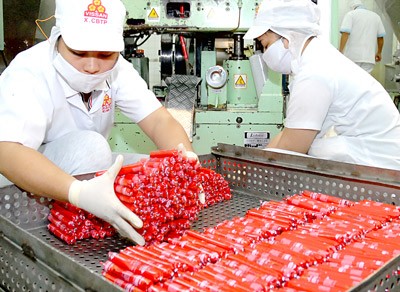 Sausages being processed at Vissan Food Company (Photo: Sggp)
The total capital required for stockpiling of Tet goods is estimated at VND6,681 billion, presenting a year-on-year increase of VND1,288 billion, of which VND3,436 billion is for goods listed under the price stabilization program.
Nguyen Thi Hong, deputy chairwoman of the City People's Committee held a working session on preparing goods for the next Tet with relevant departments on October 8. Commodities for the next Tet are plentiful and diversified at a stable price, but price of green vegetables could be increased due to bad weather conditions.
The largest stockpile will be seen in oil, sugar, poultry, eggs and processed foods, as consumer demand for these have been seen to increase.
Saigon Commercial Cooperative Union or Saigon Co-op has prepared Tet goods worth VND3,350 billion, of which VND912 billion is for goods listed under the price stabilization program.
Vissan Food Processing Company has spent more than VND1,000 billion. Pham Ton Poultry Company, Saigon Industrial Food Stuff JSC and Ba Huan Company-a supplier of eggs, have stocked Tet goods worth VND814 billion, VND231 billion and VND165 billion respectively.
Supermarkets including Maximark, Big C and Citimart have also prepared goods 3-4 times more than usual.

According to Nguyen Phuoc Trung, deputy director of HCMC Department of Agriculture and Rural Development, a number of businesses in the City have imported bad-quality poultry. This is then sold cheap in the market, further lowering domestic prices of other meat products.

Ms. Hong noted that the city authorities have established a diversified distribution network such as supermarkets, convenience food stores, traditional markets, mobile markets that must now strengthen and improve service quality, and create a good rapport between enterprises and consumers.