All 13 Ho Chi Minh City businesses participating in a price-stabilization program for the Tet (Lunar New Year) holidays have received nearly 100 percent of their interest-free loans to provide ample supplies of goods at reasonable prices.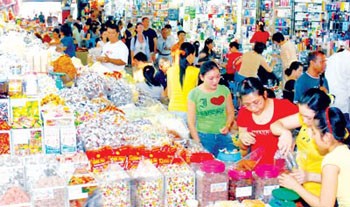 Customers buy candies and jams at Ben Thanh Market in District 1, HCMC. The prices of basic commodities will be kept unchanged or lowered for the upcoming Tet holidays. (Photo: SGGP)
Some goods sold by the participating enterprises will be at least 10 percent lower than market prices.
Speaking at a press conference of the Department of Industry and Trade January 6 to report the results of an inspection of the 13 companies, Department Deputy Director Quach To Dung said that a variety of goods are ready for sale during the upcoming holidays in February.
At the HCM City Union of Trading Co-operative-Saigon Co.op, one of the 13 businesses participating in the program, stocks of typical Tet commodities – especially rice, cooking oil, meat, and produce – were prepared in December 2009.
Purchases during peak Tet times are expected to increase by around 50 percent from now with turnover forecast at around VND1.6 trillion (US$86 million), said Bui Hanh Thu, deputy general director of Saigon Co.op.
For chicken and eggs, prices will be kept unchanged. One duck egg will cost VND2,300.
Prices will remain around VND48,000-50,000 for a kilogram of duck meat while chicken meat will cost VND90,000 a kilogram.
Vissan and SargiFood companies said they would not raise prices of hundreds of types of processed foods during Tet.
Companies have also agreed to keep prices unchanged from now until Tet for rice, cooking oil and sugar.
Twenty-five percent broken rice will be priced at VND8,000 per kilogram and VND8,500 for a kilogram of 15 percent broken rice.
For 5 percent broken rice and aromatic rice, the costs will be VND9,000 and around VND12,000 per kilogram respectively.
Average prices of cooking oil will be around VND24,000 a liter and a kilogram of white refined sugar VND17,000.
Residents monitoring prices


Participating businesses must advertise they are taking part in the price stabilization program.

The Department of Industry and Trade recently issued a directive stating businesses should stack goods in a manner that customers can easily see.

Prices must be clearly labeled on all products and businesses must act scrupulously in selling goods in line with program guidelines.

Finally, businesses are asked to report their retail prices and sales, and periodically report their stock of goods from January 15 to March 15.
According to Ms. Quach To Dung, of the 13 businesses in the price stabilization program, nine had already received 100 percent of their loans from the city government to prepare for Tet, and the other four had received 91-97 percent.
The amount of money received correlated with the amount of goods stored in business warehouses, she added.
In addition to standard measures for handling unlawful business practices related to goods pricing and quality, HCMC will publicize hotlines of four departments so that residents can call in to inform authorities of violations.
The four departments include Industry and Trade, Finance, Agriculture and Rural Development, and Planning and Investment.
Speaking about the responsibilities of businesses in the price stabilization program, Deputy Chairwoman of HCMC People's Committee Nguyen Thi Hong said that all enterprises must have a plan for ensuring goods remained stocked for each commodity.
Businesses will be closely monitored by authorized organizations after receiving their loans to ensure they are being used for the intended purpose.
Enterprises have also been asked to pay back the loans within six months. Failure to do so will mean they won't be allowed to participate in the program in the future and will have to pay interest on the overdue loans.
The media and residents are encouraged to help the program succeed by assisting authorized organizations in supervising businesses' prices and goods quality, Ms Hong said.