Standing deputy secretary of the HCMC Party's Committee Tat Thanh Cang yesterday proposed HCMC Enterprises Association to promote their bridge role to improve businesses' competitiveness as well as call on them to positively contribute in seven breakthrough programs of the city.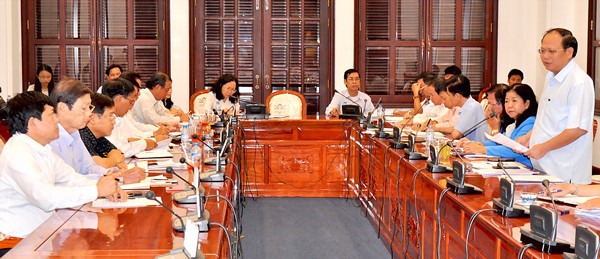 Mr. Tat Thanh Cang (standing) states at a meeting with HCMC Enterprises Association on February 10th (Photo: SGGP)
At a meeting on businesses' performance results in the city, Mr. Cang asked agencies and the association to protect legitimate rights of enterprises, improve their strength, consider them to be the subject of serving and create conditions for them to side with the city in conducting development programs.

In short term, he urged the association and agencies to support businesses to build brand names, increase product quality, reduce cost price and connect together to improve competitiveness and market stabilization.

In addition, they should provide enterprises with assistances in capital, business establishment procedure and market promotion activities; build material zones for support industry and expand regional connectivity, he said.

The agencies and association should work together to establish a material distribution center for garment and textile, mechanics, construction materials, food and pharmaceutical chemistry fields.

Chairman of the association Chu Tien Dung says it now has 65 clubs with 9,000 members. So far the association has implemented six programs to improve human resource quality, provide information and legal assistances and assist firms to integrate, access loans and promote trade.

He proposed the city to boost administrative reform in business and investment, support the association to build and synchronously carry out the set of norms to estimate businesses' satisfaction to agencies and district people's committees, and bravely task the association to develop businesses and startups.