According to the Ho Chi Minh City Export Processing and Industrial Zones Authority, total newly-registered and adjusted investment capital reached US$576.77 million by the end of December 2013, achieving 115.35 percent of the plan, up 40.09 percent compared to previous year.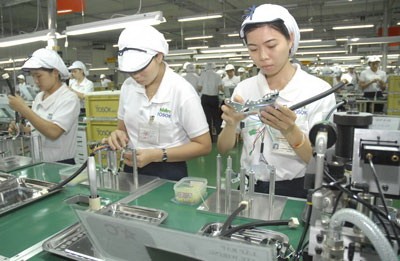 Workers produce electronic components at Nidec Group in Tan Thuan Export Processing Zone in Ho Chi Minh City. (Photo: SGGP)
Of which, foreign investment capital was at $358.55 million, up 72.7 percent over the previous year while local investment nearly touched VND4.58 trillion ($218.21 million), up 6.91 percent compared to that in 2012.
In 2013, 20 projects had to temporarily call halt to operations or stop operations, comprising of 13 foreign direct investment projects with total investment of $18.37 million and 7 local projects with total investment of VND122.8 billion.
32 other projects liquidated ahead of schedule due to ineffectiveness with five FDI projects with total investment of $6 million moving to other locations out of the industrial zone, and 27 local projects with total investment of nearly VND2.08 trillion.
In addition, 35 projects had to reduce by 20-30 percent of its capacity due to economic difficulties.
Last year, Japan was the biggest investors with investment accounting for 47.38 percent of total investment, followed by Singapore with 26.27 percent, and Australia with 14.26 percent.