According to Ho Chi Minh City Export Processing And Industrial Zones Authority, some companies have gained overseas orders so they have started recruiting workers, with those previously laid-off given priority.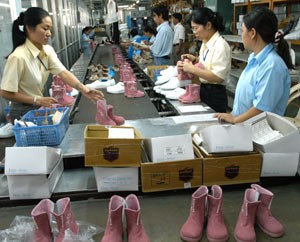 Around 21,000 people had been laid off by mid-February but companies are looking to recruit an even larger number of workers, especially skilled ones.
In order to increase their labor force, many companies plan to offer more favorable conditions, such as providing allowances, holding entertainment activities and increasing salaries.
Most companies had faced difficulties in production and had to lay-off workers over the last few months.
Nidex Copal Co. has given priority to workers that the company made redundant.
Many companies in industry zones rewarded people with VND200,000 – 400,000 for finding people to work. In addition, some companies rewarded an extra 50 percent to those who introduced new workers and undertook to work at least three months.
City statistics show 21,000 workers were unemployed in February but clothing makers cannot find enough personnel to fill vacancies.

The HCMC Export Processing and Industrial Zones Authority (HEPZA) said its 17 members are in urgent need of 11,000 workers, 8,000 just for clothing firms.
Some companies have no orders but have to pay their workers about 30 percent of their monthly salaries just to keep them on.
Some have questioned how there can be so many unemployed workers unable to find jobs while at the same time many factories cannot find workers.