The Department of Industry and Trade in Ho Chi Minh City is preparing price subsidized goods for the coming Tet Lunar New Year, in order to prevent prices of essential goods from unexpectedly escalating and to stimulate purchasing power by year end.
According to the Ministry of Industry and Trade, so far 43 out of 63 provinces and cities across the country have reported progress on the price subsidized program for the coming Tet season. Provinces and cities have spent more than VND100 billion to support businesses, who in turn have already stockpiled goods worth VND12 trillion.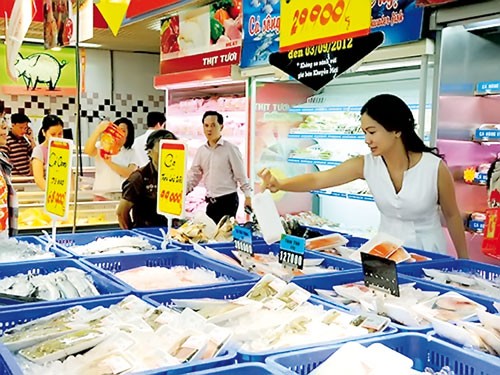 Firms have stockpiled a large amount of goods for the coming Tet Lunar New Year. (Photo: SGGP)
Vo Van Quyen, director of Domestic Market Department, said that the number of businesses that joined the price subsidized program without receiving financial support from the State have grown in strength. Firms have also developed efficient distribution networks and mobile stores to sell price subsidized goods to consumers in rural and remote areas, and in processing zones and industrial parks. Many banks have also provided loans at low interest rates for firms to stockpile goods.
Le Ngoc Dao, deputy head of HCMC Department of Industry and Trade, said that the City's price subsidized program on essential goods such as food and foodstuffs ensures a steady supply during peak season at year end and prevent rise in prices. The total capital that firms used for producing and stockpiling goods for Tet season exceeded VND6.68 trillion, up 23.9 percent compared to last year.
Currently, there are 25 companies in HCMC participating in the price subsidized program, of which, one received full financial support, 12 received partial financial support, and the rest did not receive any support. The City has offered VND270.9 billion at zero interest rate for a 12 month period. As of now, there are 5,277 price subsidized stores in HCMC, an increase of 911 stores compared to April this year.
Price subsidized goods account for 30-40 percent of market share this year. Of which, many products such as processed foods, meat, eggs, sugar, and cooking oil will be sold at 5-10 percent lower than market price and will meet 50 percent of the demand.  Although HCMC set a quota for stockpiling, many companies have increased their stockpile two to three times. By Lunar New Year, the City is expected to have around 120 more price subsidized stores.
Companies based in HCMC have been rushing to prepare price subsidized goods for the market. Three of the largest wholesale markets in the City, Thu Duc, Hoc Mon and Binh Dien, are bringing in about 8,000 tons of vegetables and fruits every day. Representatives of these wholesale markets say the volume of goods will surge by 50-70 percent towards year end.
Food Company of HCMC has stockpiled 12,510 tons of rice, 500 tons of sugar, 100,000 cartons of soft drinks, 100,000 cartons of beer, and VND5 trillion worth of confectionery, preserved fruits, tea and coffee.
Ba Huan Company said that it will supply 30 percent of eggs in the market. Vissan also set a plan to provide around 2,350 tons of pork, 4,200 tons of processed foods, 2,000 tons of vegetables, and it will stockpile 670 tons of processed foods, 3,000 tons of pork, and 200 tons of beef in its cold storage at the same time, to ensure supply does not run out.
The Pham Ton Company and Saigon Industrial Foodstuff Joint Stock Company has set aside VND673.2 billion and VND231 billion respectively to prepare goods for Tet Lunar New Year holiday season.
Bui Hanh Thu, deputy CEO of Saigon Co.op, said that her company had advanced money to suppliers to ensure supply. According to the plan, the total amount of goods for 60 Co.opMart supermarkets, 55 Co.opFood stores, and nearly 150 stores of Saigon Co.op will amount to 38,000 tons, worth VND3.4 trillion, an increase of 25 percent over the same period last year. The capital set aside for the price subsidized program was VND912.3 billion.
Towards year end, supermarkets and convenience stores will extend their opening hours to serve more consumers and will cooperate with some suppliers to offer a discount of 10-50 percent on some necessary goods.
BigC supermarket also raised its stockpile by 15 percent year-on-year, and this year is offering 90 percent of confectionery that will be made in Vietnam.
The amount of price subsidized goods at Maximark supermarket also climbed by 30-40 compared to the same period last year. The company revealed that it will run more promotional programs at year-end to stimulate purchasing power.
In order to bring price subsidized goods to the right beneficiaries, the department has coordinated with HCMC Women's Union and bigger enterprises such as Satra, Saigon Co.op, Vinatex, Vissan, and Ba Huan, to develop the price subsidized program in rural and remote areas, processing zones, industrial parks, and traditional markets to ensure supply of necessary goods at reasonable prices.
Currently, firms have opened 13 price subsidized stores at 10 out of 13 processing zones and industrial parks in the City, 831 stores at 128 traditional markets, and 785 stores in outlying districts. Most of the subsidized goods for workers are being sold at cost price.