The lure of juicy profits from investing in Ho Chi Minh City was dangled before an audience of 150 business people in the Japanese city of Yokohama yesterday.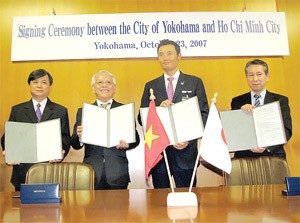 HCMC chairman Le Hoang Quan (2nd L) and Yokohama mayor Hiroshi Nakada (3rd L) at the MoU signing ceremony yesterday 
HCMC chairman Le Hoang Quan was there to extol the opportunities in his town and point out that Japanese companies had invested more than US$1 billion in Viet Nam, that over 3,000 Japanese people were living and working there, and that 380,000 Japanese people had visited the country.
In a survey conducted by Yokohama, more than 90 percent of the Japanese companies polled said they liked the idea of doing business in Viet Nam, which explains why so many people turned up for the investment seminar.
Most of the business executives in the audience said they had heard great things about Viet Nam and viewed it as the next best thing after China. However, some were worried about the difficulty in obtaining a visa, the high office rent and the congested roads in Viet Nam.
Truong Trong Nghia, director of the HCMC Investment and Trade Promotion Center, eased their fears by saying it was much easier to get a visa nowadays. He told them how the special permit for foreign investors meant that entering the country was no longer a big deal.
Regarding the high office rent in HCMC, Mr. Nghia explained that office space was in short supply while the demand was great. The office buildings under construction now and soon should fix this problem within a few years, he added.
The issue of traffic jams was handled by Tran Quang Phuong, director of the HCMC Department of Transport, who described the many projects underway or in the planning stages to ease the congestion on urban roads.
These include the widening of Highway 13 from HCMC to Binh Duong Province, the construction of an expressway from the center of HCMC to the main industrial zones in the southern region, and another from Tan Son Nhat International Airport to the Ha Noi Highway.
On the same day, Mr. Quan and Yokohama mayor Hiroshi Nakada signed a memorandum of understanding on economic cooperation between their two cities.
The non-binding agreement mentions that HCMC and Yokohama will create the right conditions for their companies to cooperate, especially firms in the small-to-medium bracket, promote trade and cross-investment, and disseminate information of interest to Japanese and Vietnamese business people.
Before traveling to Yokohama, the HCMC delegation attended the Asia Metropolis Summit in Osaka, and worked with the authorities of Hyogo, as well as Osaka and Yokohama.