These days almost all shops in Ho Chi Minh City seem to be in the doldrums and unable to attract many customers, regardless of inviting offers like 'Heavy Discounts' or 'Real Bargains' displayed on their front windows.
Rush to launch promotions
A quick glance around shops in Diamond Plaza, one of the most luxurious department stores in the city, shows many shops with 'Discount' signs. One of them is the high-end Coach hand-bag shop, which displays a poster saying '50 per cent off'.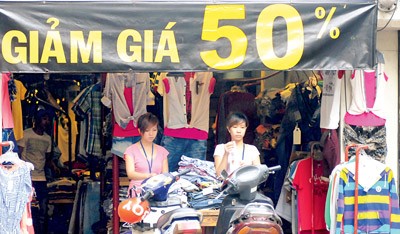 A banner saying '50 per cent off' outside a fashion shop on Nguyen Trai Street in District 5 (Photo: SGGP)
Any customer entering the store receives a warm welcome and personal guidance from its sales staff, who try to lure customers to buy their products.

However, this cannot change the mind of shoppers who merely respond by a shake of their head. Patrons still refuse to purchase their merchandise. One of the shop assistants sadly shared that previously, with such a high discount, the store was full of people buying things; but this year, even window shoppers are rare, let alone real customers.

A similar situation can be seen at the Parkson Centre on Le Thanh Ton Street, especially in the clothing area. According to Lee In Kum, a Korean- Vietnamese salesperson, these days he has not been able to sell even a single shirt in his 7-hour shift. If lucky, they might have one or two customers per day, he said. Only Vietnamese-brand stores like N&M or Ninomaxx with affordable prices have a slightly better edge.

While normally shops just launch their promotional campaigns on special occasions such as Valentines Day, International Women's Day, Reunification Day, etc., but now they run discount programmes in the hope of attracting more customers. Unfortunately, despite their efforts, things seems to worsen and shoppers are still nowhere in sight!
Indifferent shoppers
A discount sign 'Jeans for VND90,000 ($4.3), T-shirts for VND50,000 ($2.4), Shirts for VND99,000 ($4.8)' displayed on the front window of 'The Blue Clothing Store' on 107B Go Dau Street in Tan Phu District, seems to have no appeal in drawing more customers into the shop.

Tran Le Thanh Tam, a shopper at the store, reluctantly gave back the dress she loved so much as she could not afford the price of VND280,000 ($13.4). Likewise, the price of jeans she liked was more than VND300,000 ($14.4), relatively high for her. After looking through everything on the shelves, she was able to choose two shirts for VND50,000 ($2.4) each and a pair of jeans for VND120,000 ($5.76).

Tam, as well as many other consumers nowadays in Ho Chi Minh City, thinks that it is wiser to purchase adequate food and clothes rather than luxury items.

Another popular method of marketing at this moment among stores is the vague discount conditions. For example, at a sports clothing store on Le Van Sy Street in Tan Binh District, there is a sign saying '40 per cent off'.

According to its shop assistant, however, only when purchasing two items can shoppers have that discount rate in the store.

Or at Hong Shoe Store on Truong Vinh Ky Street in Tan Phu District, the attractive discount rate of 20-40 per cent off is no longer applied although the notice is still in full display. When asked why such false information is put out right in front of the shop, its manager explained that they have not had time to take it down.

This action, which greatly lowers consumer trust on promotional campaigns, seeing the current grave economic crisis in Vietnam, are among important factors that have reduced consumer confidence in the first few months of this year.