Deputy Prime Minister Hoang Trung Hai has issued instructions on cargo clearance at ports and storage fees charged by shipping companies in a bid to facilitate imports and exports in Ho Chi Minh City.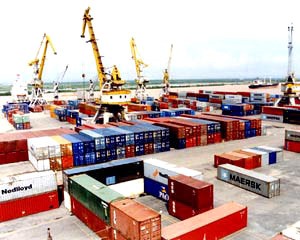 A port in Ho Chi Minh City faces room difficulties due to many containers not yet handled
Mr. Hai asked the Ministry of Transport to instruct port companies to accelerate the unloading of cargo and abolish unreasonable fees.
 
The ministry was asked to establish a unit to collect and list fees charged by ports, shipping companies and agents, work with relevant agencies to check legitimacy and reasonableness of those fees, and recommend that the  government abolishing unreasonable ones.
 
Mr. Hai ordered the city to take measures to alleviate traffic congestion around ports and on roads connecting ports to warehouses and factories.
 
The Finance Ministry was asked to work with the Industry and Trade Ministry and relevant agencies to simplify administrative procedures relating to import and export, customs clearance, and port fees.
 
Mr. Hai said the Vietnam Chamber of Commerce and Industry together with relevant ministries and agencies must prepare plans for establishment of an association for Vietnamese cargo-owners in 2008 in a bid to solve problems about import-export and protect them from unfavorable conditions imposed by foreign ship-owners.