Despite announcements from Ho Chi Minh City officials that there is ample rice in the market, many enterprises continue to speculate.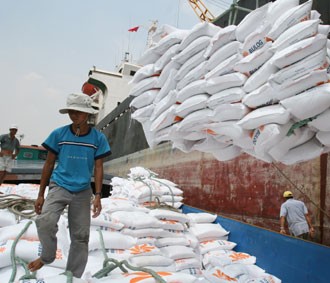 City officials affirm there is ample rice in the market.
Rice prices have even decreased in the Mekong Delta as farmers harvest fall crops, but this hasn't stopped some companies from over-buying supplies of the grain.

Huynh Cong Thanh, director of the HCM City Food Company (Foocosa), told SGGP there are 1.4 million tons of rice in reserve in the south.
Farmers in the Mekong Delta, meanwhile, are harvesting fall crops while good-quality rice is being imported from Cambodia.

Speculation of rice, however, has occurred in districts 5 and 6 with dealers buying three times as much as their normal reserves, he said.
Mr. Thanh said companies knew it was illegal to speculate, but were worried by rumors last week that there may be a rice shortage coming.

In addition to ensuring there is enough rice in the market, Foocosa has said it will keep prices steady until the Tet (Lunar New Year) holidays in February.

Foocosa will also collaborate with the city's largest food producer Vissan to provide rice and other food to each other, to help stabilize the market during the busy holiday season.

Together with food companies' attempts to curb CPI, local authorities said they would tighten control on the city market and punish shops that speculated or raised prices 20 percent higher than regulated.

Le Xuan Dai, deputy director of the Market Management Board, said the city will impose fines of up to VND30 million (US$1,600) for speculators or withdraw their business licenses.

City Deputy Chairwoman Nguyen Thi Hong said the city Committee had also ordered district market management boards and the Industry and Trade Department to enhance control over speculation and stop rumors of food shortages.

Consumers must not believe all rumors they hear, she added.