This year's MTA Vietnam series of exhibitions for the machine tool, precision engineering and metalworking technology industries will take place in Ho Chi Minh City on July 5-8 with more than 300 showing companies, the organizers announced here Thursday.
William Lim, project director of MTA Vietnam 2011, told a press briefing that 303 companies, with 83% being foreign ones, had put their names down to join the eighth annual show. He added they come from 27 countries and territories.
Mr. Lim comes from Singapore Exhibition Services Pte Ltd, which co-organizes the MTA Vietnam together with Exhibition Services Co. of the Vietnam Chamber of Commerce and Industry, better known as VietchamExpo.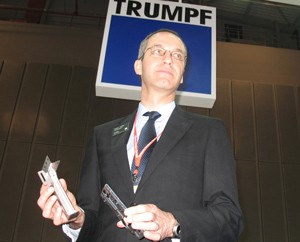 (File) Hans-Peter Laubscher, managing director of TRUMP, Asia Pacific, introduces his company's latest technologies at the MTA Vietnam 2010 show on July 6, 2010 in Ho Chi Minh City. The German corporation has registered to join MTA Vietnam 2011. (Photo: Tuong Vy)
Firms in sectors like aviation, automotive, precision engineering, electricity, electronics, construction, supporting industries and chemicals will introduce their latest products at the event, staged at the Saigon Exhibition and Convention Center in Phu My Hung Town in District 7, he said.
Collated with the show are Metrology Vietnam 2011, ToolTec Vietnam 2011, Subcon Vietnam 2011, and Automation Vietnam 2011, which are also for manufacturing solutions.
The event has so far seen confirmation of participation from well-known names such as Mitsubishi Electric, Nikon, TRUMPF, Mitutoyo, Amada, Mazak, Yamazen, Guehring, Jainnher, and Renishaw.
The group booths at the event are the China Pavilion, Germany Pavilion, Italy Pavilion, Japan Pavilion, Korea Pavilion, Singapore Pavilion, Taiwan Pavilion, Thailand Pavilion, UK Pavilion, and newcomer Turkey Pavilion.
To complement the exhibition, a series of seminars will be held alongside the show. The engineer maintenance and production waste management seminars, held on July 7 and 8 respectively, will provide opportunities to network, listen to expert viewpoints from industry professionals, exchange ideas and stay up to date on the technologies in the manufacturing sector, he said.
Vietnam imports more than 90% of its metalworking equipment and mechanical products, according to market analysts.