According to Le Ngoc Dao, Deputy Director of the Department of Industry and Trade in Ho Chi Minh City, total value of goods that businesses have already prepared for pre and after Tet holiday is about VND7, 500 billion, including stabilized goods worth VND5,000 billion.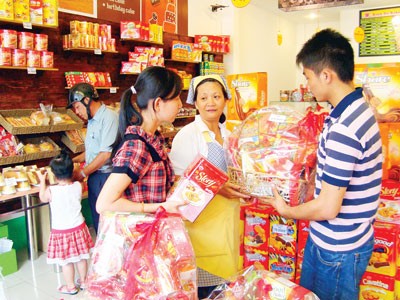 At a stabilized market in the city
The functional departments will maintain stability in prices before, during and after Tet from January 1 to March 1.
The city has currently more than 7,500 retail outlets and supermarkets offering the quality goods at reasonable and stable prices.
In addition, over 200 fairs and mobile markets will be organized in remote areas to sell high quality products at reasonable and stable prices.
The Department of Finance will also keep a close eye on parking fee in the city to prevent charging prohibitively high rates during Tet holidays.
Head of the Departments of Food Safety and Hygiene, Huynh Le Thai Hoa said that more than 30 inspection groups have carried out investigation of traditional special foods' safety for Tet since December 20, 2013.
The HCM City Veterinary Department has also controlled sources of goods for the upcoming Tet festive season since November, 2013, according to the department's head, Phan Xuan Thao.