A hundred businesses in Ho Chi Minh City will submit their tax declarations via the Internet, said the Ho Chi Minh City Taxation Department. The pilot project will last until the end of the year.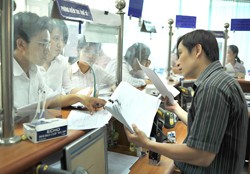 A tax office in HCM City. Businesses will save time and costs by submitting tax declarations via the Internet (Photo: Dat Viet)
The new online tax declaration will allow tax payers to submit their tax declarations more quickly and easily, helping to reduce costs and save time.
It will also helps tax officers reduce the backlog of forms when end of month submissions flood in.
The department will provide businesses with free tax declaration software and digital signatures.
The tax payers download tax declaration forms and then submit them online to taxation offices.
Businesses can also receive tax information by logging onto their accounts, as well as receiving tax confirmation.