Sai Gon 3 Garment Joint Stock Company has secured its biggest order ever, a US$50-million contract to supply five million pairs of jeans for export to Japan this year, chairman Pham Xuan Hong has announced.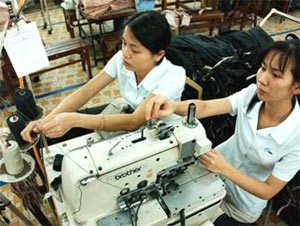 Making Jeans for export to Japan at Saigon 3 Garment JS Co.
And unlike before when orders from the Japanese buyer were for small quantities of different styles, the new contract is for a huge quantity of just one jeans style.
 
Mr. Hong said Viet Nam's clothing manufacturers viewed Japan as their most reliable and stable export market.
 
He is pleased with the price too, but still sees room for improvement. "The order price is quite high, but it would be even better if our workers were more skilled," he added.