Although the textile and garment sector has seen a rise in export turnovers, enterprises fail to rake in higher profits due to hikes in raw material prices and production costs.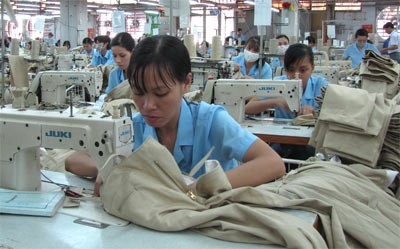 Workers making trousers for export at Saigon 3 Garment Company (Photo: SGGP)
The sector ranked No. 1 in exports with the export growth reaching 30 percent in the first half of the year.
 
Vietnam exported US$6.16 billion worth of textile and garment products, an average of US$1 billion worth of goods per month, while in 2010 the figure was only US$500-800 per month.
 
The high growth rate is attributed partly to enterprises boosting exports to bigger markets like the US, EU and Japan and expanding into newer markets.
 
The sector is estimated to export US$13.5 billion worth of goods this year, exceeding the set target of US$13 billion for 2011.
 
According to the Vietnam Textile & Apparel Association (VITAS), Vietnam is the second largest textile and clothing exporter to the US after China.
 
The export of Vietnamese textile and garment goods to the US will soar once negotiations of the Trans-Pacific Partnership agreement are complete amongst Vietnam, US and some other countries by 2012 as per schedule. Once the partnership agreement is finalized, textile and garment enterprises will enjoy tax benefits on exports to the US.  
 
Though export turnovers have increased, exporters have been unhappy because of inflation and increase of raw material prices and labor costs.
 
Enterprises say export prices have risen by 5-15 percent since the same period last year, but fabric and cotton prices have soared by 50 and 235 percent respectively, while production and labor costs have hiked by 0.38-1.33 percent and 20 percent respectively year-on-year.
 
Tran Quang Nghi, Vitas deputy chairman and general director of the Vietnam National Textile and Garment Group (Vinatex), said to attract workers and retain them, enterprises must raise salaries even though this will dent profits.