The head coach of Vietnam's national football team, Henrique Calisto, introduced Thursday new designs of Zorok beer with his images printed on the cans.
The Portuguese tactician, who won the Asean championships last year with the national squad, and representatives of Zorok beer brewery SABMiller Vietnam unveiled three new can designs at a press briefing in Ho Chi Minh City.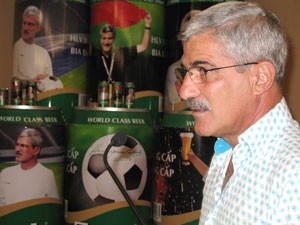 Vietnam coach Henrique Calisto unveils new Zorok beer cans at Thursday's press briefing in Ho Chi Minh City (Photo: Tuong Thuy)
"This is a gift from me to send my best wishes to all the Vietnamese football fans," said Calisto, who is currently coaching the national squad during their 2011 Asian Games qualifiers, and U-23 Vietnam for their Southeast Asian Games campaign this December in Laos.
The three new designs, each with the coach's photo printed on the cans, pass on the themes of "Ready", "Victory" and "Celebration".
These cans will be available on the market for just six weeks, starting on Nov. 2, 2009, said SABMiller Vietnam general director Raymond Stark.
He described the new designs as "perfect combination between Zorok, the world class beer, and Mr. Calisto, the world class coach."
"The price remains unchanged," he said.
Stark added that Zorok beer sales increased by 2.5 times since Calisto became the brand ambassador for this beer in April this year.
Calisto's brand ambassador contract is for 12 months.
SABMiller Vietnam currently has a total invested capital of US$88 million, operating its brewery located in the southern province of Binh Duong. In March 2009, SABMiller bought 50 percent stake owned by Vietnam Dairy Products Co. (Vinamilk) in their joint venture to make it wholly foreign company.