The Vietnam Coal and Mineral Group is speeding up plans for coal mining in the Hong (Red) River Delta next year and Dr. Nguyen Thanh Son, director of the Red River Energy Company, an affiliate of the group that coordinates its work, spoke to SGGP about the project.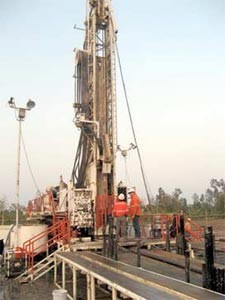 Vietnam Coal and Mineral Group explores for coal in the northern province of Hung Yen. It is speeding up plans to mine for coal in the Red River Delta in the north. (Photo: Tuoi Tre)
The Prime Minister has been apprised of the plans and he has assigned the Ministry of Industry and Trade to set up a national council to assess them, he said.
Many experts have voiced their concerns about the possible impacts of mining, including depletion of groundwater, pollution, and land subsidence, he said.
The council is evaluating these concerns and is likely to submit a comprehensive assessment to the Prime Minister by the end of this year, he said.
The group is preparing to mine up to 600 meters and more using two different methods, he said: the conventional way like in Quang Ninh Province and gasification of coal.
They would help assess the possible impacts on, for instance, the groundwater, enabling the group to adopt the best option for the project.
Following approval from the Prime Minister, it would tie up with foreign companies for design and operation, he said.
The foreign partner would hold a 49 percent stake in coal mining and 40 percent in gasification, he said, listing Japan's Marubeli, Australia's Line Energy, the US' BBV, China's CMC, and Poland's Copex as possible partners.
To prevent land from sinking, sand would be pumped into the mines, a technique used in many countries, he explained.
Groundwater would not be affected, he assured, since it is located above the layer of coal.
Since the coal from the mines in the Delta would be suitable for producing thermal power, the group would recommend construction of power plants in Thai Binh and Hung Yen Provinces, he said.
Coal mined at depths of 900-1,200 meters in the Red River Delta would cost US$65-75 a ton, comparable to prices of imported coal, he said.
He expected a joint venture with Marubeni and Line Energy to begin gasifying coal in Hung Yen Province next year.
The gas can be converted into diesel or used to fuel power plants, he explained.

The delta region has an estimated reserve of 210 billion tons of coal.