Cocoa is a potential lucrative farm produce of Vietnam with prices double that of coffee, but unfortunately benefits of cocoa are under control of foreign companies.
In 2012, global cocoa production dropped drastically as cocoa growing countries faced many upheavals. Particularly Malaysia, one of the largest cocoa growing countries in the world, had shifted to palm oil cultivation over 200,000 hectares of cocoa growing area. Production in Indonesia, one of the largest cocoa producers in Asia, Ivory Coast, and Ghana fell by 19-20 percent. A slump in production caused a scarcity, pushing cocoa prices up, as demand for cocoa remains huge.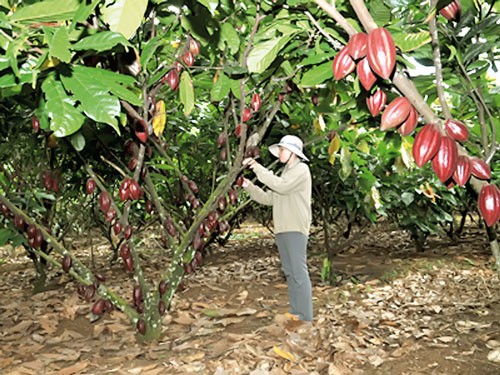 A farmer is harvesting cocoa fruits. (Photo: SGGP)
Surveys showed that the EU, US, and Japan markets love to buy cocoa products and account for 76 percent of world consumption. Meanwhile, consumption of cocoa products in Russia, Brazil, and countries in the Middle East also signaled an increase.
Earlier, Vietnamese cocoa was not able to draw attention of importers due to low production. However, in recent years, as cocoa supply by large growers lessened, processors started to establish trade with Vietnam's market, encouraging the country to grow more cocoa. This demand has helped farmers feel secure about future consumption.
Data by the Ministry of Agriculture and Rural Development showed that Vietnam's cocoa industry posted a rapid growth rate. In 2003, cocoa growing area was merely 3,000 hectares but by the end of 2011, the area increased to 20,100 hectares with production of 5,500 tons annually. According to the industry, cocoa area will be expanded to 35,000 hectares with a production of 26,000 tons by 2015, and to 50,000 hectares with 52,000 ton production by 2020.
Along with this, the government plans to train firms and farmers about requirements in producing clean cocoa to obtain UTZ Certification, a worldwide standard for coffee, cocoa, tea, and palm oil.
In recent years, having realized the value of cocoa beans, firms have started to invest in growing and buying cocoa. Nevertheless, in the past two years, only 11 firms have received UTZ Certification.
Since the entry of foreign companies, Vietnam's cocoa market has become more vibrant. According to analysis of firms in the industry, with preliminarily-treated cocoa, firms can earn 15 percent profit while by producing cocoa products such as powder, candy, and chocolate, profits rise 400 percent.
However, this high-level benefit mostly belongs to FDI companies whereas local companies merely play an intermediary role as purchasers. In the market, foreign firms have not only gained an upper hand but also been competing with each other for cocoa supply.
The US-based Cargill is the most prominent in Vietnam's market. Entering the market in 2009 via Cargill Vietnam Company, the company spent a large sum of money to establish several purchasing hubs across the country. With this methodical move, the company purchased upto 80 percent of cocoa production in Vietnam.
While foreign companies were competing with each other fiercely, local ones merely operated in growing and providing fermented cocoa beans for purchasing hubs of Cargill, the UK-based ED&F Man, and Japan-based Mitsubishi Corporation.
Nguyen Phuc Linh, director of Thinh Phuc Company, shared that there are a few companies who meet standards to provide cocoa beans to producers in and out of the country. However, they are unable to directly export cocoa but have to export via these hubs.
For instance, cocoa produced by some Vietnamese companies was highly appreciated by Mars Incorporated, who created Mars bars, M&Ms, Milky Way, and Dove, but they still had to buy material from Cargill because Vietnamese firms have not been able to fulfill big orders. In addition, in order to earn higher margins, some companies recently started to produce cocoa powder, chocolate, cookies, and wine--but due to poor technology, they failed to build a reputation.
According to Tran Van Lieng, the cost of building a cocoa processing plant is not too much but most domestic cocoa beans are bought by foreign companies. So if local firms want to manufacture cocoa products, they will have to import nearly 80 percent of material from other countries at a higher price and suffer transport costs, hence, not many are interested in producing finished cocoa products.
Without coordination, Vietnam's cocoa industry ruined its strong points and potential, leaving foreign companies dominating the market while local ones resigned themselves to be purchasing hubs, earning low profits and causing huge losses to the country's cocoa industry.