Coconut candy production in Mekong Delta Province of Ben Tre has seen falling demand since the beginning of the year, with 50 percent of producers having to stop production, said the province recently.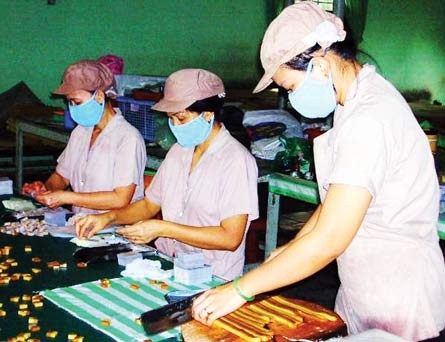 Workers at Thien Long Coconut Candy Company, Ben Tre Province. (Photo: SGGP)
Ben Tre Province currently has more than 150 large and small coconut candy businesses, of which 12 are privately owned.
They churn out more than14,000 tons of products a year, more than half is exported to China and the remaining consumed in Vietnam.
However, since 2009 coconut candy production has faced many difficulties, especially with Chinese demand falling.
Thousands of workers have lost their jobs due to companies cutting back production.
Prestige brands are still selling well on the domestic front, but those who are major exporters to China are suffering. 
Ben Tre Province is very well-known as the 'land of coconut.'
It is covered by more than 40,000 hectares of coconut trees, and has a wide range of coconut species.