In the Mekong Delta, even though price of dried coconut has of late dropped to an all-time low of VND14,000-16,000 per dozen (US$0.76), coconut traders are still nowhere to be seen.

Farmers in dilemma
Ben Tre Province, renowned as the kingdom of coconuts, is the worst affected, with all coconut farmers complaining about the pathetically low price of dried coconut these days.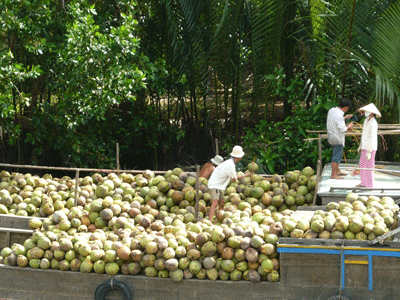 Almost 40,000 households in Ben Tre Province live on coconut farming
Nguyen Thi Hai, a farmer in Hamlet 8 of Phuoc Long Commune in Giong Trom District, commented bitterly that even at VND1,200 per coconut she could not sell any in the last two months. As a result, the coconuts germinated and had to be used as poultry feed.

At these prices, coconut farmers cannot hope to recover enough capital for other farming projects such as raising chickens, ducks, or pigs. This has also affected consumer confidence in various markets.

The so-called 'Coconut King' Vo Thanh Thuong in Hung Phong Commune of Giong Trom District is facing the same problem and dares not hire workers to harvest coconuts on his two-hectare field. He sympathized with farmers in remote areas who have smaller coconut fields to which traders pay absolutely no attention to.
When in dire need of money, they have to beg traders to collect their produce at a mere VND7,000-8,000 per dozen (US$0.38). How can any farmer continue to survive through to the next season will be a small miracle!

Unfortunately, the coconut traders too are in no better situation. Nguyen Van Tien, a coconut trader for 10 years in Mo Cay Nam District, said that due to continuous fall in price, if traders cannot sell merchandise to factories or Chinese merchants, they will face losses. This has been a cause of piling huge debts in the past eight months for several traders.

The infamous story of trader N.V.N lately has set off alarm bells for both the government and the people. The trader lived in Tan Hao Commune of Giong Trom District, and ran away after he was unable to clear debts amounting to nearly VND4 billion (US$190,476). He left behind a stockpile of germinated coconuts- now a valueless asset.

Timely solutions may help
Statistics show that Vietnam has a total of 144,000 hectares under coconut cultivation, mostly in the Mekong Delta and the Central Coastal areas. Ben Tre Province is the largest area of 52,000 hectares, followed by the southern provinces of Tien Giang, Tra Vinh, and Vinh Long, accounting for 30,000 hectares. The entire Mekong Delta has a productivity of 400 million coconuts per annum.

In these hard times, more than 40,000 households in Ben Tre Province are in dire need of financial support from the government.

According to Ho Vinh Sang, chairman of Ben Tre Coconut Association, there is a very loose link among coconut growers, processers, traders or exporters. But when crisis hits, it becomes each man to himself!

A stronger connection is crucial to overcome problems that affect all. It is wiser that through various coconut associations, factories cooperate closely with farmers, provide capital, modern technology as well as promise to buy back produce, so that farmers are more confident and focus on increasing productivity.

Tran Anh Tuan, vice chairman of the People's Committee of Ben Tre Province, announced that local authorities are creating a long-term plan to develop the coconut industry while seeking a better policy to support coconut farmers.

At the moment, related agencies are encouraging people to stay calm and not chop down coconut trees, since this sharp drop in price is temporary in any economic crisis.
Agricultural organisations are also providing farmers with new growing technologies as well as better saplings to save time and money while increasing productivity. It is also sensible to persuade farmers to intercrop coconut with grapefruit and cocoa so as to temporarily improve the situation.

'Coconut King' Vo Thanh Thuong suggested that it was necessary to support coconut farmers with more capital and extend the debt deadline for the time being, so that they can raise poultry or shrimps to make end meet. 
Moreover, the government should recognise coconut as an industrial product as soon as possible so that better investment policies can be developed. However, right now urgent action is required for the government to help farmers in stocking up their produce.