For the first time, export turnover of coffee exceeds the record of US$1 billion. As many as 897 tons of coffee have been exported this year, worth over US$1.1 billion.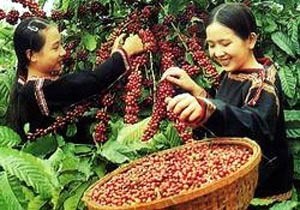 This year's export turnover of coffee reaches a record value of US$1.1 billion
After many years of crisis in coffee exports, the price has bounced back, about US$1,170 per ton, increasing 50% of the coffee export value over last year, though the export volume is the same.

This year, two commodity groups, which are rubber and coffee, have joined the 1 billion dollars earners' club to bring the total members of the club to nine, namely seafood, rubber, rice, crude oil, garments and textiles, footwear, electronic products and PC parts, and wooden products, and coffee.

According to the Ministry of Trade, this year's total export turnover has reached US$39.6 billion, a year-on-year increase of 22 percent.

Besides 20 staple export products, export turnovers of other commodities have fetched US$6.8 billion, an increase of 42 percent over the previous year.

The Ministry is currently considering the export of staple products to replace those with low export turnovers by new ones which have represented a strong export growth during recent years, and to revise the policies and measures for application in the coming year.