Coffee farmers can increase Viet Nam's export earnings by up to US$100 million by improving their collection technique, Mr. Luong Van Tu, chairman of the Vietnam Coffee and Cocoa Association, told participants in a seminar on coffee market prospects and quality.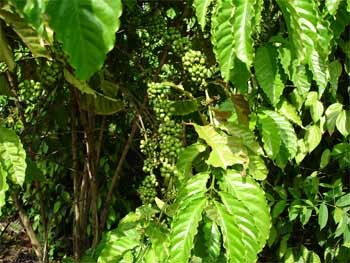 Coffee grown in Viet Nam Photo:U.Phuong)
Farmers should harvest coffee two or three times a year and should not collect green or unripe beans, said Mr. Tu.
Coffee prices rose to US$4,000 per ton in 1994, but traded for only US$500 a ton in 2001-2002, he added. The world coffee price is now US$2,750.
The price fluctuates a great deal, so farmers and exporters should not let themselves be misled into overgrowing based on the current market price, Mr. Tu said.
Coffee consumption is increasing by about of 2 million bags a year, Mr. Nestor Osorio, president of the International Coffee Organization, told participants. About 140 million bags will be consumed worldwide in 2018, he added. Viet Nam and Brazil, the two biggest coffee exporting countries, should grasp this opportunity.
The quality of Vietnamese-made coffee is low, Mr. Osorio said. About 74 percent of the coffee beans rejected at the Liffe market in London originated in Viet Nam.
The Institute of Policy and Strategy for Agriculture and Rural Development held the seminar on March 26 in Ha Noi.