One day after the State Bank of Vietnam announced a one percent cut in interest rate per annum, all commercial banks simultaneously adjusted short-term interest rates to 8 percent per year.
Several banks have adjusted interest rates below the ceiling cap such as ACB Bank and Southern Bank who have adjusted interest rate for deposit less than 12 months from 7.6 to 7.8 percent per year; the Kien Long Bank has adjusted interest rates for 6 and 9 months at 7.8 percent per year and 7.7 percent per year.
Not only big banks but small banks as well, which once had serious liquidity problems, have eased interest rates to 11-12 percent, a decrease of 1.5 percent per annum.
Vietnam will take firm measures at cutting bank non-performing loans to 3-4 percent by the end of 2015, said Prime Minister Nguyen Tan Dung last month.
Economic growth in 2012 slowed to an annual 5.03 percent, its weakest rate of expansion since 1999, the government said on Monday.
The decision by the State Bank of Vietnam to slash the ceiling deposit interest rate by one more percent is believed to make no upheaval to the monetary market. The local currency would still be attractive in the eyes of Vietnamese.
In fact, the story about interest rate reductions has been discussed over the last many months.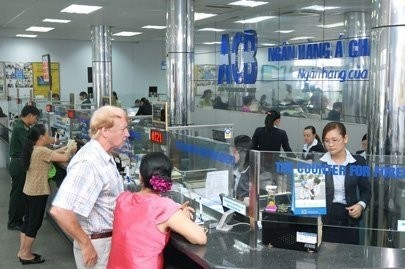 Dealing at ACB Bank (Photo: SGGP)
Following the State Bank's decision, commercial banks have immediately eased the lending interest rates, though the new decision only took effect on December 24.
Since bank liquidity has improved, they are not complaining about the interest rate reduction. It is now a growing tendency that banks ease lending interest rates to attract more borrowers.
The investment institutions say they have every reason to believe that the interest rates would decrease further to 7-8 percent by the end of 2013. The inflation rate is believed to be low at 6-7 percent in 2013, which is an important factor for the banks to consider adjusting the interest rates.
State agencies and economists have predicted that the inflation rate would be 7 percent this year. If so, the ceiling deposit interest rate of 8 percent would still be high enough to ensure the real positive profit for depositors. Especially, those, who deposit their money for more than 12 months, can enjoy the interest rates of up to 13 percent per annum.
Banks now have capital in excess, because they find it very difficult to find borrowers.
Some economists raised the idea that if SBV adjusts short-term interest rate to 8 percent per year money will be flowing from the banks, however, in the first two days after the central bank announced new interest rates there is not much disturbance in the financial market.