HCM City's leading food producers Vissan and Ba Huan, which had received financial assistance from city authorities to maintain prices during Tet (Lunar New Year), have increased the prices of some commodities but claimed they did it before a ban period kicked in.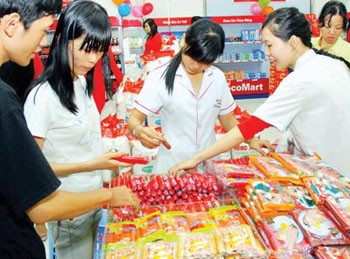 A Vissan outlet in HCMC. The company said it was forced to increase the prices of some items because their costs had risen though the company has undertaken not to hike prices between January 15 and March 15 under a city price-stabilization program for Tet (Photo: SGGP)
In a reply sent to the Department of Industry and Trade, they said they hiked the prices before January 15 when a two-month prohibition took effect.
The People's Committee had earlier instructed the department to investigate the price hikes.
Vissan said it was forced to increase the prices of some goods like canned beef meat and frozen meat by 5 to 7 percent because prices of materials have skyrocketed.
But since these products make up less than 1 percent of the meat sold in the market, their price increase would not have much effect, Vissan said.
Ba Huan said egg prices rose sharply forcing it to hike its own prices, but they still do not exceed the levels regulated by the People's Committee.
The two companies promised to not to raise prices above the regulated levels even if market prices rise further.
Related article:
City businesses receive loans to stabilize Tet prices