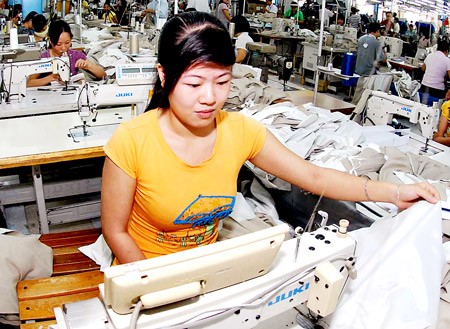 Workers at a garment company. (Photo: SGGP)

Forecasts about the shift of investment to Vietnam's garment industry have become reality. Dozens of Foreign Direct Investment (FDI) companies have been licensed since the beginning of this year. It's an optimistic signal for the country's economy, but not necessarily for the garment industry.
The Chinese government made many economic adjustments at the same time when it was preparing to host the 2008 Olympic Games. Accordingly, workers' living standards increased, causing the production cost of China's clothing industry to edge up. Thus, foreign investors had to seek for another processing market.  They found Vietnam.
In the middle of 2008, many companies from Hong Kong, Taiwan, and Korea went to Ho Chi Minh City to study their investment opportunities within the garment industry. Cheap labor and high skills were the two main temptations that led foreign firms to choose Vietnam as a new place to do business. Although they were warned that Vietnamese labor market wasn't as cheap as it had been the past, a market with the capacity to succeed in the clothing industry like Vietnam still attracted them like months to a flame.
18 FDI garment industry projects, worth US$20 million, were licensed in the first four months of this year.
The number of FDI companies, mainly from Taiwan and Korea, accounts for nearly half of more than 2,000 garment companies in Vietnam. Vietnam's clothing exports to these markets have increased as most investors are also traders or importers.
However, a new investment wave washing over the garment industry has also created challenges for Vietnamese firms, especially a shortage of labor. The more FDI firms operate in garment industry in Vietnam, the more competitive it becomes to attract labor.
The garment industry does not bring as much benefits as other industries, as garment companies mostly process products for other countries. The situation that many clothing FDI companies report losses for years in order to evade taxes is alarming.
According to statistics of Ho Chi Minh City Tax Department, many FDI companies said they "ran at a loss" for years, however, production was maintained or even expanded. This is doubly unfair because FDI companies receive much favorable investment policy than local firms.
This sort of dishonesty leads to unfair competition among clothing exports, and negatively affects the labor market, Pham Xuan Hong, deputy chairman of Vietnam Textile and Garment Association, said, adding that the government should promote investment in collateral industries, including textiles and dyes.