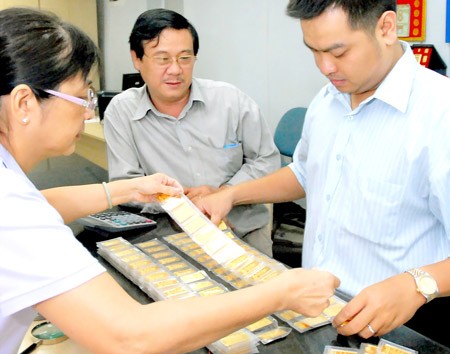 Customers buy gold at Saigon Jewelry on October 8.(Photo: SGGP)
Gold continues to break new records with the global price topping US$1,056.3 an ounce October 8. Domestic gold also reached an all-time high of VND23.30 million a tael (1.2 ounces), which raised a concern that economic activity would be disturbed by the movement of the precious metal.
Global gold price was expected to swing between the resistance ranges of $1,000 to $1,020 an ounce, which had been maintained for nearly a month. But it surged $36 an ounce to $1,056.3 an ounce within the past three days.
As the global price made big leap, the domestic bullion market was strongly affected. Bullion was bought at VND23.15 million and sold at VND23.30 million on October 8.
After gold escaped from VND22 million a tael and advanced quickly to VND23 million a tael, most customers sold gold to take profits.
Saigon Jewelry, the biggest gold shop in Vietnam, said it bought 6,000 taels on October 7.
Most domestic investors and experts were not able to forecast the movement of bullion. Meanwhile, international organizations showed many different forecasts.
Gold Newsletter said gold would top $1,100 an ounce by the end of this year. But FastMarkets forecasted gold would rise to between $1,200 and $1,300 in December due to the greenback's debasement and inflation acceleration.
Midas Fund said the metal would advance to $1,200 in first quarter of next year. While CMC said it would return to between $960 to $970 an ounce before jumping to $1,050 to $1,150 an ounce by the end of first quarter next year.
Most forecasts of financial organizations that bullion will continue to rise based on the strength of major economies.
Merry Lynch forecasted gold would soar to $1,500 and crude oil to climb above $100 a barrel as major economies recover from the global financial crisis and the US dollar declines, spurring demand for the metal as a store of value.
SPDR Gold Trust, the biggest gold-backed exchange-traded fund, bought 8.8 metric tons on October 7, sending its holdings to 1,109.31 metric tons.
The greenback and other currencies faced debasement as many countries intensified pumping money into their economies in the fight against economic recession.
In addition, most investors shifted to invest in the precious metal as the UK's Independent newspaper said Arab oil states would switch to a basket of currencies or gold in oil trading.
With the domestic bullion market, some said high prices draw more people to participate in gold trading, which would cause depreciation pressure on the US dollar.
Beside, a large amount of money would flow to bullion markets from the commercial banking system, causing banks to raise interest rates.
However, according to deputy general director of An Binh Bank, Pham Quoc Thanh, the gold rally does not affect banks.
People become cautious when gold makes sudden rises and only professional investors will join the market, he said.
Associate professor – Dr Tran Huy Hoang, Dean of the Banking Faculty of Ho Chi Minh City Economics University, also agreed with Mr Thanh.
The US dollar would not be affected and the exchange rate will barely change, as the State Bank of Vietnam will slightly increase the dollar exchange rate against the Vietnam dong to support exports, he said.
Economic activity would not be disturbed by advances of gold, he concluded.