Even though confectionery goods have great potential in Vietnam, local sweetmeat producers have not diversified into this arena and hence continue to face much competition from foreign manufacturers.
For this reason they must associate with foreign companies to diversify their products and acquire new technology to bring more options to consumers.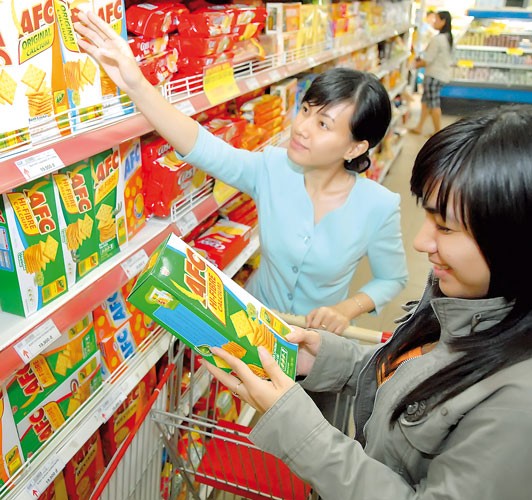 More consumers have chosen domestic-made sweetmeats. (Photo: SGGP)
The confectionery industry is one which has strong growth and barely affected by economic changes. Figures show that since 2008, retail sales of confectionery products in US dollars in Vietnam grew by 114 percent. At the same time, Vietnam's confectionery market has attracted more local and foreign companies thanks to the country's large population with high demand for a variety of foods.
Recently, it is said that Nabati, a popular brand from Indonesia, planned to build a factory in Vietnam. Meanwhile, foreign confectionery producers around the world have increased exports to Vietnam via local importers.
The flood of imported sweetmeats with high quality and spectacular designs in the market calls for local confectionery producers to upgrade their technology so as to improve productivity and quality to satisfy consumer demand. Especially, with a good understanding of local consumer psychology, Vietnamese confectionery producers can research and create new flavors suitable to the palate of local consumers.
Currently, local sweetmeat producers hold 75-80 percent of market share whereas foreign companies only hold 20-25 percent.
In recent years, Vietnamese brand names, such as Kinh Do, Bibica, Hai Ha and Pham Nguyen, account for a majority of gift baskets for Tet Lunar New Year. Moreover, with globalization, Vietnamese-made sweetmeats have been selling internationally. Exports of confectionery and cereal products touched US$192 million in the first six months of this year, up 8.4 percent year-on-year. Besides in neighboring markets such as China, Cambodia and Thailand, Vietnamese-made sweetmeats have entered and won consumers in large markets like Poland, the US and Japan.
Under competitive pressure, local producers have put great efforts to increase output as well as develop new product lines to attract consumers. For instance, for this year's Lunar New Year festive season, besides regular products, local sweetmeat producers have also developed new products. Although the economy remains in recession, local producers still increased production by 10-20 percent to serve the market during Tet and vowed not to raise prices.
According to statistics, Kinh Do increased the most output for Tet festive season, adding its supply to about 38,000 tons of sweetmeats. In order to serve a high-class market, the company presented high-quality cookie product line under Korento trade mark with materials all imported from Europe. Moreover, the company also improved designs of other products for gifts during Tet holiday season. Nguyen Xuan Luan, deputy CEO of Kinh Do Group, said that his company will promote its distribution channels to bring their products even to rural areas to serve consumers.
According to Tran Quoc Hoang, deputy CEO of Bibica, the company has prepared about five million boxes of cookies, worth VND150 billion for the coming Tet festive season.
Nguyen Chi Nguyen, general secretary of Food and Foodstuff Association of Ho Chi Minh City, said that local confectionery producers have many more advantages than foreign ones, such as understanding of taste, demand and behavior of Vietnamese consumers. This is an advantage for domestic producers to exploit market potential. However, machinery and technology of Vietnamese producers have not caught up with foreign producers yet, so in order to ease pressure, the former should associate with the latter to acquire new technology or coordinate with them to produce sweetmeats.
At present, many importers claim to bring in high-quality sweetmeats from Europe, but in fact these are produced in Asia and packed in Vietnam. If Vietnamese confectionery producers become official distributors of world famous brands, consumers will definitely benefit more.