The fourth annual conference to promote investment, trade, and tourism in the Vietnam-Laos-Cambodia border region was held in the Central Highlands province of Dak Lak on November 11.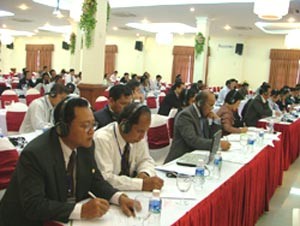 A view of the conference held in Vietnam on November 11 to promote trade, investment, and tourism in the Vietnam-Laos-Cambodia development triangle
The "development triangle" as the area is called includes 10 provinces with high economic potential, especially in industry, hydropower, minerals, and ecotourism.

At the conference, they showcased their potential and listed the investment incentives they offer investors.

Bui Quoc Trung, deputy head of the Foreign Investment Agency, said Vietnam has created favorable conditions for its enterprises to invest in Cambodia and Laos.

To boost cooperation and investment, officials from the region suggested instituting a comprehensive long-term cooperation program between the three countries.

They said central agencies should focus more on border provinces' economy and open up the tourism sector to investment.

They emphasized the need to develop human resources, build and upgrade the infrastructure in all three countries, especially for transport water, and power supply, and promote investment throughout the region.
This year's conference was co-chaired by Vietnam's Deputy Minister of Planning and Investment Nguyen Van Trung, his Laotian counterpart Thoongmy Phomvisay, and the Secretary of State at Cambodia's Ministry of Commerce, Mao Thora.
Laos has invested US$48 million in eight projects in Vietnam and Cambodia, $6.2 million in seven projects.
Vietnam has invested more than $3 billion in 166 projects in Laos, and $400 million in 52 projects in Cambodia. Twenty-eight of the projects are in the development triangle.
In the first 10 months of 2009, Vietnam has invested $1.3 billion in Laos and $218 million in Cambodia.