With the real estate market faced with a sudden and unexpected economic crisis over the last three years, market for construction material has struggled to survive, with many companies having shut down, temporarily halted operations, or even been taken over by foreign firms.
According to Nguyen Quang Cung, vice chairman of Vietnam Association for Building Material, consumption of building material in the first quarter of this year was less than in the same period last year by 20-30 percent.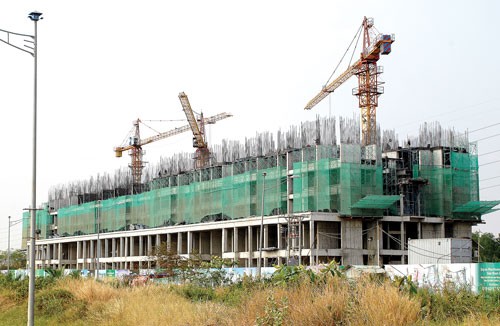 The problems of the building material market cannot be solved while real estate market remains stagnant.(Photo: SGGP)
In particular, consumption of cement was 10.94 million tons, accounting for 19.54 percent of this year's target, and 95 percent of consumption in the same period last year with cement inventory at 5.5 percent.
Consumption of architectural glass was 60 percent compared to same period last year; tiles and bricks merely touched 65 percent; and consumption of unbaked bricks was 75 percent year-on-year. Thus, unless the situation improves in the second quarter, there will be a huge surplus of cement, tiles, stones, and bricks.
Difficulties lie not just in the local market, building material producers also have to deal with outside pressures. According to the association, some cement companies had to sell out to foreign companies. Figures showed that FDI companies accounted for 33 percent of the total capacity of the industry.
Steel producers were also under the same pressure. Steel manufacturing merely reached 350,000 tons in March while the average output is 400,000 tons. Until now, steel inventory was around 320,000 tons, much higher than the limit of 220,000-250,000 tons.
In February, four members of Vietnam Steel Association stopped production and some operated perfunctorily. Besides a frozen property market and high overheads, steel companies also had to deal with fierce competition from imported steel.
Data sent by the Customs Department of Vietnam showed that in the first two months of the year, steel imports hit 1.3 million tons worth US$941 million, up 9.3 percent.
Le Van Toi, head of Department for Construction Materials, under the Ministry of Construction, said building material market will hardly improve significantly. He hopes that the situation will not become worse than last year.
Solutions to find ways out of the deadlock, such as, setting up technical barriers to limit imports, lowering duties, shutting down technologically backward factories, and exporting, have all been drawn but barely show a path forward.
However, experts said that the problems of the building material market cannot be solved while real estate market remains stagnant.
This difficult situation has made several companies transfer their projects or sell their stakes to other companies. Since the end of 2012, the merger and acquisitions trend has became more vibrant in the sector. For instance, the Hanoi Export-Import Joint Stock Company (Geleximco) sold 70 percent stake of Thang Long Cement Company at $230 million to Indonesian cement producer Semen Gresik; leading producer in tile market in Vietnam, Prime, sold 85 percent stake (around VND5 trillion) to Thailand's Siam Cement Group; and The Vissai Group bought Do Luong Cement Company from Housing and Urban Development Corporation.
The Vietnam Association for Building Materials recently sent a report to the Prime Minister and the Ministry of Construction to ask for revision in planning, reduction in number of projects, and preventing foreign companies from taking advantage of the present crisis to acquire local firms.
The association also proposed to the Government to implement measures to limit import of ceramic tiles, architectural glass, and paving stones, and set up technical barriers for building materials.