The prolonged freeze in the property market and cut back in public investment has brought the construction material sector to the brink of bankruptcy.
According to Vietnam Steel Association's latest report, the production and consumption of steel in recent years has reduced drastically.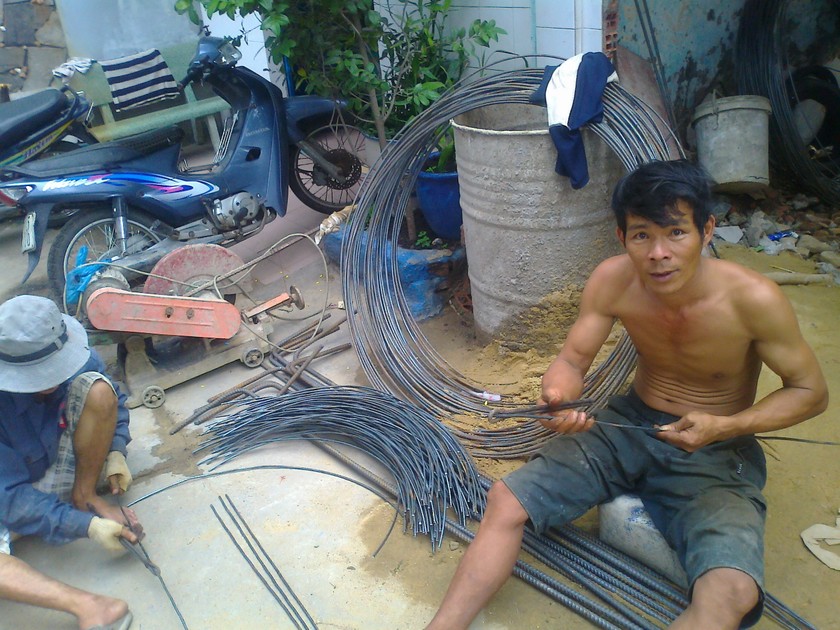 Workers bending steel for constructing a house (Photo: U. Phuong)
Generally speaking, in the last six months of the year, 2.38 million tons of steel was produced, about 6.8 percent less than in the same period last year; and around 2.22 million tons was purchased, almost 7 percent less than in the same period last year.
In particular, in June, around 380,000 tons of steel was manufactured, a decrease of 12 percent compared to that in May.
The steel association also forecasts that around 20 percent of enterprises will be declared bankrupt in 2012.
Meanwhile the cement sector is also facing dismal times as it has more than 10 million tons of inventory and many enterprises have huge debts going into thousands of billions of dong.
The construction sector has seen a decrease by 50 percent in purchasing power in cement, steel and iron in wholesale and retail markets, and 40 percent fall in brick, tile, ceramic and paint.
Retail price of small iron dropped by VND500 per kilogram and big iron by VND9,000-VND14,000 a rod. Sand and brick slipped by 5 percent while bath showers, bidet mixers and lavatory seats decreased by 10 percent, and wooden flooring by 15 percent.
Tran Thanh Hung, director of Son Hung Construction Company, said after Government Resolution 13, to reduce and relax deadline for bank loan, the construction sector is hopeful for the future.
Hung said that one of the signs of recovery is that despite the rainy season, this time the company still has orders in the south. In addition, the bank interest is quite low; however, it is still not attracting investors.
On the other side, construction companies are selling at a loss in the hope of reclaiming money, and also activating the market.