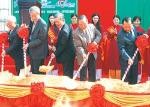 At the ground breaking ceremony
On December 25, 2005, the Saigon Beer, Alcohol and Beverage Corporation started building a brewery with the initial capacity of 100 million liters per year in the North-West Industrial Zone of Cu Chi District.
The company, shortly known as Sabeco, builds this Saigon-Cu Chi Brewery at a cost of VND1,904 billion. The factory will be equipped with the most modern technology in Vietnam, and is due to turn out the first batch of beer about 18 months later.
Prime Minister Phan Van Khai, Industry Minister Hoang Trung Hai and leaders of Ho Chi Minh City attended the groundbreaking ceremony.
Speaking at the ceremony, Mr. Khai appreciated the company's efforts to make Saigon Beer a leading brand in Vietnam.
"Many big foreign companies have asked the Vietnamese government for permission to buy in Sabeco," he said.
Sabeco plans to double the brewery's first-phase capacity to 200 million liters per year. The company is seeking to become a leading manufacturer in the industry.
Translated by Tuong Thuy