A domestic consortium yesterday laid the foundation stone for the Hai Ha marine economic zone at Cua Dai Beach in the Hai Ha District of the northern coastal province, Quang Ninh.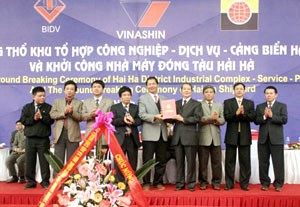 Representative of the consortium receives a construction license at the ground-breaking ceremony
The consortium comprises of the Vietnam Shipbuilding Industry Corporation (Vinashin Group), Vietnam National Coal and Mineral Industries Group, PetroVietnam, The Bank for Investment and Development of Vietnam (BIDV) , Ha Long Investment and Development Corporation, Vietnam Posts and Telecommunications Group, and the Song Da Corporation.
 
Under the plan, the Hai Ha economic zone will cover 15,000 hectares with a special 23 meter-deep seaport.
 
The new economic zone is all part of a US$15-billion project aimed at developing the seaport economy, industry, tourism and urban areas. The project will be carried out in many phases and finished in 2017.
 
Also yesterday, as part of phase one of the project, Vinashin Group started building Viet Nam's biggest shipyard, worth US$1 billion, in the new economic zone. The area will include a shipyard, and infrastructure and port facilities.
 
The planned economic zone will play a crucial role in fostering two-way trade between Viet Nam and China, and other ASEAN countries.
 
The Hai Ha shipyard is scheduled to start building ships that weigh from 150,000 to 320,000 tons in late 2007.
 
The Hai Ha economic zone is 40 kilometers from the Mong Cai border gate and 100 kilometers from the Ha Long City.