Despite the shopping season at yearend coming, many shops in town are incurring huge losses due to the increasing amounts of construction works on the street.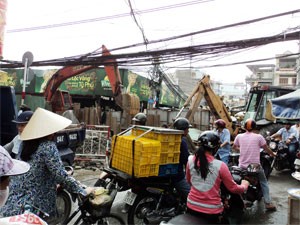 A construction work on Bui Huu Nghia Street in Binh Thanh District causes traffic jams (Photo:Minh Tri)
Many fashion shops, restaurants and hotels are isolated by digging works and green fences on many streets including Ngo Quyen, Au Co, Pham Van Hai, Luy Ban Bich, Thoai Ngoc Hau and Le Van Sy.
The traffic on Le Van Sy Street in Phu Nhuan District has almost been paralyzed for months since many construction works were set up, bringing down hundreds of businesses.
Pham Thi Lien, owner of a fabric shop on the street, said "a construction work was built in front of my shop, blocking the entry and covering my goods with dust".
"I have proposed a 50 percent reduction of tax, equal to VND1 million per month. But the proposal rate can not offset the losses, which are up to 80 percent of the monthly average sales," she said, adding she was considering to remove her business elsewhere.
"The shopping frenzy always comes at yearend. However, our sales have went down for two months since a construction work blocked the entry of my showroom. To cut losses, we had to fire many employees," My Nhan, owner of a motorbike showroom on Au Co Street in Tan Binh District, complained.
Different from the crowded businesses on other streets, restaurants and hotels on Ngo Quyen Street in District 5 have been very quiet for nearly a year due to five big construction works.
Nguyen Huu Ai, a motorbike driver at Ngo Quyen – 3/2 crossroad, told Dau Tu Tai Chinh that "passengers earlier paid VND10,000 only for a ride to the Pham Ngoc Thach hospital. But now I have to charge more as I have to go around construction works".
"Many regular customers, who usually stay in my hotel on their Lunar New Year holidays, refused to come back this year," said Ly Ngoc Anh, owner of the Thuong Hai hotel at 93 Ngo Quyen Street.
"We also lost many visitors from Cambodia, who come to Ho Chi Minh City to take health exams at the nearby Pham Ngoc Thach hospital. Other hotels on the street suffered the similar problem.
"As cabs can access the street, many customers find themselves struggling to walk on the pavements, which now become place for motorbikes to go through."
Analysts said the issue still lasts long as punishments for the slow construction progress of the contractors were not tough enough.
All digging work on the streets will be stopped and green fences removed to allow for free flow of traffic during the Lunar New Year season, which falls February 3, Thanh Nien news quoted the Ho Chi Minh City Transport Department as saying.
 
The department said the work for different infrastructure projects in the city will cease between January 18 and February 10, to clean up the city and facilitate transport during the first days of the Year of Rabbit, according to Chinese calendar.
 
Contractors are to return the digging spots to their previous condition, including refilling the holes, by January 26, the department said.