Despite a decline in the prices of building materials and banks' lending rates, new construction projects are not getting off the ground as builders wait for the volatile market to stabilize.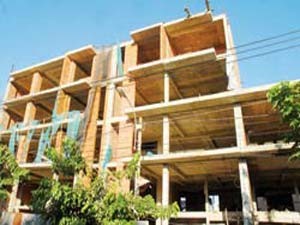 Unfinished houses in Binh Chanh Ddistrict, HCM City (Photo: SGGP)

Many are fearful that building material prices would rise again next year after falling sharply this year, the Viet Nam Association of Construction Contractors said.
Nguyen Quoc Vi Liem, head of marketing at the Ho Chi Minh City-based Dat Xanh Real Estate Service & Construction Corp., also blamed the low liquidity in the property market. Property investors lack funds since many banks have cut off loans to the industry, he said.  
Even those that do lend for property projects demand many kinds of fees, he added.
The association has forecast that it will take until the end of 2009 for the sluggish real estate market and, together with it, the construction market to recover.
In October the prices of building materials fell dramatically. Steel prices, for instance, fell by half from record levels in July to around VND11 million per ton, tracking a decline in global ingot prices.
Ha Tien 1 cement now costs less than VND70,000 per bag of 50 kg, down by VND2,000, while other brands cost even less. But demand has plummeted.
Thanh Hoa shop in Go Vap district said it sells only 30-40 bags of cements per week instead of the normal 100 or higher.   
The prices of other materials like sand, bricks, and tiles too have declined sharply, said Nguyen Thanh Hung, director of Thanh Minh Production and Construction Co. based in Ba Ria-Vung Tau Province.