The "Consume Vietnamese Products" month-long sale program was launched Monday at 16 Co-op Mart supermarkets as part of the Ho Chi Minh City Department of Trade and Tourism's third annual "Big Sale Month."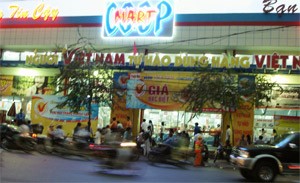 Co-opMart launches the sale program (Photo:U.Phuong)
Special offers and gifts from 82 Vietnamese enterprises costing a total of VND6 billion will be offered, 20% more than last year's Co-op Mart "Big Sale" program.
Consumers can buy more than 500 Vietnamese products discounted from 5% to 30 % at the Co-op Mart chain.
Customers will also be instructed on how to use and try new brands and may even be given an unexpected gift at the counter if they are lucky.
From September 1 to 29, roving Co-op Mart sale teams will also bring high quality Vietnamese goods to be sold at cheap net prices to people in 36 communes on the city outskirts.