The prices of several commodities in the consumer price index (CPI), like rice, gasoline, cooking gas, building materials, and garments have risen and are set to skyrocket in the beginning of December, the General Statistics Office has warned.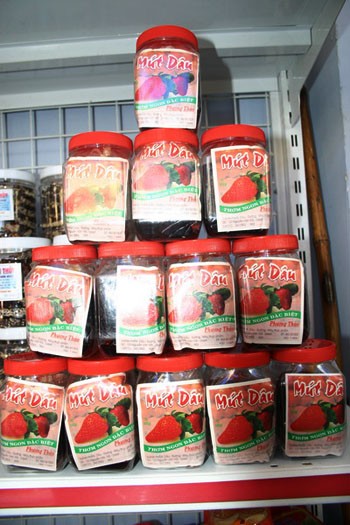 Pots of Da Lat strawberry jam piled up in a HCMC market. The prices of processed foods, including cakes and jams, are set to increase at city supermarkets in December after sugar prices increased sharply.
Supermarkets in Ho Chi Minh City said November 15 that their suppliers have announced an increase in the prices of food items like sugar, cooking oil, candy, and bottled drinks.
A kilogram of sugar will rise by VND3,000 to VND18,000, or double the rate at the beginning of this year.
Ung Thi Lien, a shopkeeper at Binh Tay Market in District 6, said prices during Tet this year are likely to be higher than last year because sugar prices have risen due to the ninth and eleventh storms, Ketsana and Parma.
Several items that use sugar, like cakes and jams, are also set to become more expensive as a result.
The price of a jar of Da Lat strawberry jam made by Trang Nghiem Company will go up by VND2,500 to VND17,000; bottled drinks made from pineapple, orange, guava, and other fruits made by Vuon Trai Cuu Long Company will be VND2,000 – 6,000 more expensive.
In markets, prices of processed foods have increased.
At Binh Tay Market, a 24-can case of 333 beer now costs VND190,000 to 195,000, VND10,000 to 15,000 higher than in the same period last year.
The cost of a case of Heineken has risen to VND307,000-308,000.
A kilogram of dried cuttlefish sells at VND255,000-260,000, or VND30,000 to 35,000 higher than last month.
Shopkeepers said that the increase in gasoline prices is one of main reasons for the prices of consumer goods to skyrocket.
CPI up
The statistics office reported that the November CPI rose by 0.55 percent over the previous month and 5.05 percent year-on-year.
Food prices soared by 2.22 percent during the month.
Of the 11 baskets of consumer goods and services in the index, only telecommunications fell, edging down 0.05 percent over the last month.
In a dispatch to health departments in provinces and cities, the Drug Administration of Vietnam ordered them to closely monitor medicine prices which have been rising, especially following the strengthening of the US dollar against the dong.
It said they should take stringent action against those increasing prices to unreasonable levels during the rest of this year and Tet.